Azzar Islands, a new project that has been released lately to change the way you live, is one of the most outstanding coastal projects by Ready Group Developments on the North Coast.
The developer of the project tries to make headway with its achievements, then comes Azzar Islands North Coast Resort, which improves the quality and strength of the ready group developer.
The resort was constructed on a large area on the North Coast, which takes the perfect location on Ras El Hikma Road, near most of the services and facilities that improve your lifestyle level to a new level, with a project area of 400 acres.
Ready Group Developments raises the bar in its project by revealing an incredible payment plan that includes four different payment methods that are extended over a long period of time.
In Azzar North Coast, you will enjoy the highest standards of architecture with a breathtaking view from your villa, the developer provided many villa types with a variety of spaces.
Get Ready to Uplevel Your Coastal Experience
Azzar Islands North Coast Location
Azzar Islands North Coast is located on Ras El Hikma Road, 128 kilometres from Alexandria Matrouh Road. Ready Group developments have chosen this location for its proximity and vital area, which contains many facilities and services around the project and is easily accessible through many important main roads and axes.
Nearby places of Azzar Islands:
It's located 12 minutes from El Dabaa Road.
Azzar island is located near significant compounds such as Jefaira Al Sahel, Hacienda West, La Vista, Mountain View, and John Sodic.
Only a Few minutes from the new city of El Alamein.
El Alamein International Airport.
New Fouka Road.
The Latin Quarter in New Alamein.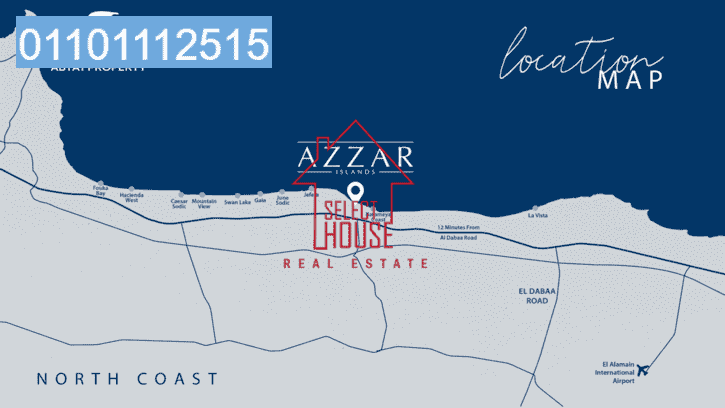 The Land Space & Design of Azzar Islands North Coast
Azzar Islands North Coast was built on a massive area of about 400 Feddan, divided into two phases, the largest of which was dedicated to landscapes, vast green parks, and water features.
What distinguishes Azzar North Coast is its amazing designs that grant its customers a high standard of both elegance and classiness. The project has its own beach, which gives a beautiful view for each unit in the Ready Group Project.
According to the types of units, the Project offers the following unit types: townhouses, twin houses, and standalone, with spaces starting at 162 metres square.
Enjoy your stay at Azzar Islands Ras El Hekma, with the perfect view of your own garden and a direct sea view.
The Available Units of Azzar North Coast
Ready Group Development has launched lavish units in Azzar North Coast that give a different meaning to a life full of happiness by living a more luxurious lifestyle.
Twin houses at Azzar Islands North Coast are about 285 meters square.
Townhouse type A corner are about 285 meters square.
Townhouse type A middle is about 280 meters square.
Townhouse type B corner are about 207 meters square.
Townhouse type B middle is about 200 meters square.
Townhouse type C corner are about 165 meters square.
Townhouse type C middle is about 162 meters square.
Meet Our Team & Pick Your Perfect Unit
Top Features & Services in Azzar Islands El Sahel
Azzar Islands El Sahel features one of Egypt's most popular kite beaches for the best kite flying experience and to watch kite flying competitions.
It also has a lot of beach activities, such as jet skiing, sailing, beach volleyball, and beach soccer.
A variety of swimming pools that fit all ages.
It has an infinity pool in each villa.
Azzar Islands Ras el Hekma Resort offeres its residents lush green valleys, water features, and mesmerising trees.
Ready Group offered a private family swimming pool full of activities.
You will also find on Azzar North Coast Resort a fully equipped health club.
One of the project's significant features is providing a commercial area to its residents that contains different types of stores, including clothing stores, pharmacies, banks, restaurants, and cafes.
Ready Group developments have dedicated a safe area for the kids to enjoy diverse recreational equipment such as a swingset, slide, jungle gym, and sandbox.
Azzar Islands El Sahel, Water Sports Club has been provided by the developer.
Feel safe all the time while Ready Group is watching by setting up an indestructible fire alarm system.
A familiar medical facility that grants the best medical care ever.
Don't miss the chance to have a good time by spending the day on yachts and fishing at Marina El Alamein.
All vacationers will receive excellent hotel service.
Azzaro Islands North Coast Resort has the most popular restaurants and cafes.
Hiring a security team leader in the market to guarantee residents' safety 24/7.
Azzar Islands North coast Prices & its Payment System
The prices of Azzar Islands North Coast begin at 39,000,000 Egp, which suits all of the company's customers who want to receive all of the services and facilities that are important in high quality.
Contact Us to Get Your Chalet Right Now
The Payment methods of Azzar North Coast by Ready Group
Ready Group for Development provides four payment methods in Azzar North Coast to assist customers in selecting the one that is best for them.
The first method
0% down payment
10% handover
equal installments over 5 years
The second method
5% down payment
5% after 3 months
10% on handover
equal installments over 6 years
The third method
10% down payment
5% after 3 months
10% on handover
equal installments over 7 years
The 4th method
15% down payment
5% after 3 months
10% on handover
equal instalments over 8 years
Ready Group Developments
Since its inception in 1970, the company's main goal in all of its projects has been to be among the international leaders in residential development.
The ready group has proven leadership in the field by introducing a different meaning of life that changes all the concepts of a comfortable life, by giving more chances, providing various units and spaces, more than one payment method, and laying out a group of the finest services and facilities.
Ready Group previous projects
Address East New Cairo Compound.
Azzar compound 1 at Fifth Settlement.
Azzar 2 Compound at Fifth Settlement.
The company designated 27 towers on the land of Dubai.
The company designated 13 towers in the State of Qatar.
Other Projects in North Coast
Faq Related to Azzar North Coast
Who is the developer of Azzar North Coast?
Where is Azzar Islands resort located?
What are the types of units in Azzar islands North Coast?
How can i contact the consulting team in Azzar North Coast?
Call the following number: 01101112515