Are you looking to experience the meaning of luxury to the fullest in the heart of Sheikh Zayed, Etapa compound matches your requirement.
Etapa compound Sheikh Zayed is one of the prestigious residential projects of City Edge Company that managed to fill the gap between the opulent lifestyle and services integration in one of the most strategic places in October.
Etapa compound is equipped to take your housing experience to the next luxury level, where the contemporary buildings are perfectly designed to fit your needs.
City Edge Company launched Etapa Compound in alignment with one of its primary goals of personalizing user experience through multiple services that fit different needs.
The available services provided luxuriously in Etapa compound Sheikh Zayed are a Medical center, a vast fitness hall, entertainment-based places, a commercial mall, a Kids' area, and restaurants and cafes.
Etapa Location
The strategic location of Etapa Compound is one of the main reasons that pushed many property buyers to upgrade their experience through the compound.
The fact that Etapa is situated on both the regional ring road and the Alexandria-desert road makes transportation among the nearby cities more accessible.
It's noteworthy that the Etapa compound location is situated close by a group of the most splendid compounds in Sheikh Zayed for high-class lifestyle fans, including Rabwa Compound Sodic Compound, Karma Compound, and Yassmin Compound.
Nearby places to Etapa Sheikh Zayed
Saudi Market Sheikh Zayed is one of the significant nearby spots to the compound.
Etapa Sheikh Zayed is 5 minutes from Hyber One Market
It's only 10 minutes between Etapa and Juhayna Square.
The Prestigious design of Etapa Compound
The Designers who did put the outlines of Etapa Compound and its designs underwent many filtration phases, so the company could introduce an inspiring authentic design to be added to its list.
The compound is renowned for its inspiring designs and breathtaking views that are set in balance all over the compound.
Check one of the top prestigious projects in October O West Compound
Etapa Compound Space & Its Division
On 77-Feddan Land, Etapa Sheikh Zayed is established with modern European architectural techniques for a more opulent lifestyle.
City Edge Company gave much consideration, in all its projects, to creating eye-pleasant landscapes that can be residents' full view. Thus, around +80% of Etapa El Sheikh Zayed is dedicated to lush greenery spaces and artificial lakes.
On the other hand, the residential areas, the remaining part, occupy a small percentage of the total compound space, which is 4%.
Etapa's property buyers are completely privileged by their space to choose from a wide range of residential units in which the internal division is a great plus.
The available types of units in Etapa City Edge match customers' different needs with its distinct features such as roof-based units, garden-based units, garage-based units, one-floor units, and multiple-floor units.
The minimum space in Etapa Etapa El Sheikh Zayed is 200 Sqm for a medium-size apartment.
You, as a buyer, can find your perfect pick from the following types:
Grand Villa
Twin Villa
Town House
Duplex
Apartment
It's notable to mention that the massive space of Etapa enabled designers to outline a slight distance between units for privacy purposes. Despite the differences between the residential units, all share the same green views.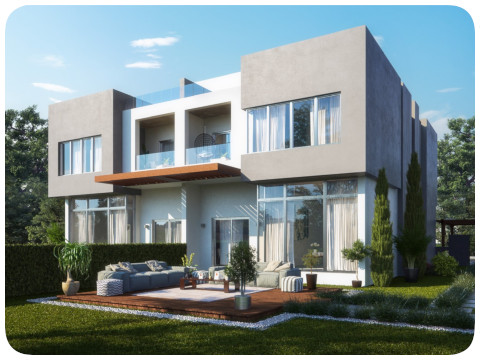 Top Services in Etapa Compound
Etapa compound offers lifetime opportunities through a fully-integrated community by analyzing owners' top needs and delivering them with excellence.
Interestingly, All the family members in Etapa, from the oldest to the youngest person, got a place to visit or an activity to do.
If you are ready to uplevel your housing experience where your family can enjoy the highest level of comfort. In that case, it's better to be fully aware of all the Etapa compound benefits and facilities:
Etapa Compound offers top-notch medical clinics that are supervised by super-experienced staff.
Etapa is featured with a Playground area for kids equipped with the latest games, yet, a super safety system.
Etapa Sheikh Zayed offers an extensive intelligent security system that grants both customers and belongings safety.
4d Cameras are operated all over the compound to add more layers of security; in addition, the role of guard members goes beyond price.
Pharmacies where customers can get their cosmetic needs in addition to their medical bells.
Etapa dedicated large green spaces to enable residents to relieve their stress by holding different based-relaxation activities.
The clubhouse is one of the main features of the compound, where residents can enjoy time with their families and get exposure to the community members.
Etapa offers a group of well-known restaurants and cafes, including western and eastern cafes.
Etapa Sheikh Zayed spotlights people's health by providing a nutrition-based gym equipped with advanced safety tools.
The Swimming pools provided in Etapa were established in different sizes for adults and kids.
For cinematic critics, who only find joy when watching different genres of movies, the compound offered a huge cinema hall.
A five-star hotel.
A commercial mall and supermarket are found all over the compound.
Pharmacies are set all over the compound for 24 hours.
Check the services list and payment system in Hadaba Compound 
Etapa Sheikh Zayed Prices and Payment List
Etapa City Edge offers an advantageous price list that can be considered a plus for anyone looking to invest or get a new luxurious home.
City Edge Company always showcases a deep recognition of buyers' different needs when it comes to payment systems; thus, the company offers highly controllable payment plans in which facilitation is the main element.
Buyers must pay only 5% of the unit's total cost to book their preferred unit. After three months, 10% of the remaining cost is paid.
8% of maintenance fees is added to the payment.
the company offers another payment system in which the owner can extend that payment phase to 7 years with no interest.
Kindly note that another 5% shall be paid while receiving the unit.
Who is the developer of Etapa Compound?
In 2017, City Ede Company was introduced to the Egyptian Real estate market by putting its first milestone.
The company's principal shareholders are the New Urban communities authorities that are meant to find potential spaces away from Egypt's most livable spots and Egypt's housing and development bank, launched in 1979, that is specialized in financing housing projects across urban communities and North Coast resorts with a high percentage that is ranging from 19% up to 92%.
Since then, the company has been endeavouring to provide sustainable value to all its residential and administrative projects by adding innovative solutions through fourth-generation cities, including New Capital city, New Mansoura city, New Alamein City, and Sheikh Zayed City.
Recently, City Edge Developments announced its participation in the development phase of Maspiro by launching the Maspiro mall and Maspiro business tower, where the commercial and administrative offices are lavishly featured with its Nile breathtaking frontage.
Other projects by CITY EDGE
Mazarine new Alamein compound
New Alamein towers
Downtown New Alamein
Al Maqsad new capital compound
Baroque new capital compound
Frequently Asked Questions about Etapa Compound
Who is the developer of Etapa Compound
Where is Etapa Compound located?
How can I contact the Consulting team in Etapa Compound
Contact the following number: 01101112515