Ever West 6 October Compound is a new milestone added to Cred Company's contributions list that perceived great attention from property buyers due to its prime location in Sheikh Zayed City and its Competitive prices.
Cred Company was keen to introduce a state-of-art integrated community "Ever Compound", rather than just attached buildings, accordingly, property owners can enjoy an exquisite level of sophistication and comfort.
The exceptionality represented in Ever 6 October Compound is highly evident in offering customized housing options that appeal to customers' needs.
Reserve Your Place Now in Ever Cred!
The Location of Ever Compound
Ever Compound features a strategic location in the heart of Sheikh Zayed City with direct access to the 26 July axis. The compound's nearness to the monorail, a new transportation network currently under construction by the government, duplicates the compound's accessibility from distant places.
Living in a such prestigious compound "Ever West 6 October" is an opportunity for those who are looking for a prestigious lively neighbourhood, yet far away from the hustle of the crowdedness.
Check the nearby places from Ever Compound in Sheikh Zayed City:
Ever Compound by Cred is 10 minutes away from Misr university.
The distance between the international sphinx airport and Ever Cred is 5 minutes
Ever Compound in Sheikh Zayed is located 5 minutes away from Ikea.
The land space of Ever Compound by Cred
On a 40-Feddan land, Ever Compound is constructed by Cred Company in the heart of Sheikh Zayed offering a vibrant and super integrated community, where residents can meet their like-minded peers.
Cred Company set a perfect master plan for "Ever Cred" with a cutting-edge land division that comprises vast landscapes and waterway features between units, while the remaining parts will be delivered with huge.
Cred Company was prudent while setting its recruiting criteria for choosing the responsible design team; visionary leaders who can turn an empty land space into a state-of-art community that lies on a solution-oriented approach in the first place.
Types of residential units in Ever Cred Compound
Ever Cred Compound is divided into two stages, the first phase is planned to include low-rise buildings and 4 floors. While the second phase is expected to reflect a higher level of sophistication through high-rise buildings that include 9 floors, a huge commercial podium is attached to each building.
Cred Company offers a well-planned residential unit variety of apartments and duplexes.
The minimum space provided in Ever October Compound is 120 m2 for small two-bedroom apartments and up to 200 m2 for a mid-size apartment.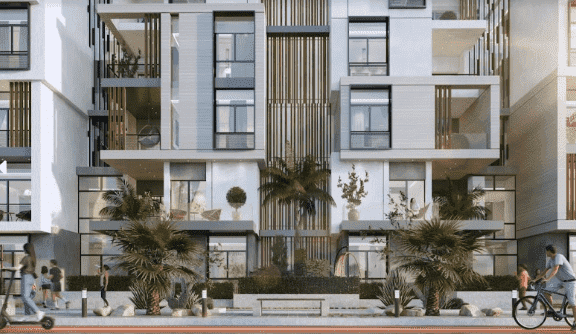 Top features & Services in Ever West 6 October Compound
Ever West Sheikh Zayed features superiority in terms of integration level, as Cred Company prioritized customers' requirements as metrics for success during the planning phase.
That's why living in Ever Cred grants a super fulfilled-needs lifestyle, both luxurious and essential are included.
Check the available services:
Ever West 6 October offers medical clinics in different specializations, so residents don't have to step out of the compound in case of emergencies.
The Garbage shoot being implemented in Ever 6 October is a cutting-edge feature that commonly exists in European countries.
Ever West Sheikh Zayed is distinguished by vast breathtaking landscapes that are seamlessly intertwined in the view.
The compound includes multiple outdoor swimming pools around the compound alongside the home-attached pools.
The Clubhouse in Ever Cred is the ideal place where all family members can have quality time enjoying their favourite activity, whether it's artistic, social, or physical.
The residential buildings in Ever Compound Sheikh Zayed are symmetrically designed with underground parking to lessen the space needed for parking and ensure the safety of vehicles.
Ever West October Prices & Payment Plans
Offering unbeatable prices that can stand alone in the market as a competitive advantage was one of the main goals for Cred Company while setting its pricing strategy.
Ever October Prices set by Cred Company are extremely unique because of the high-standard value provided in return.
Apartments for sale in Ever West Compound start from 3.800.000 Eg.
The Payment System announced in Ever Compound 6 October
The payment system of Ever October Compound shall be highlighted as one of the remarkable advantages provided.
an amount of only a 10% down payment is required to purchase a unit in Ever West Compound, while the remaining cost can be easily paid over 8 years.
The Developer of Ever West 6 October Compound
Ever Compound is developed in sheikh Zayed City by Cred Company, a leader subsidiary company to the ABC Construction Company, established in 1982 in KSA, and Masrya International Group, established in 1997 in Egypt.
The upshot of this successful collaboration led to the development of a series of booming projects in Egypt, that received genuine trust from property buyers in Egypt because of the mother companies' reputation, such as Castle Landmark and Castle Mall Gate In the New Capital City.
Other Projects in October
FAQ related to Ever Compound by Cred Company
Who is the developer of Ever Compound Sheikh Zayed?
Where is Ever West is located?
What are the types of units in Ever West 6 October?
How can i contact the consulting team in Ever West 6 October Compound?
Call the following number: 01101112515