An awarded-winning project brought to reality by Tatweer Misr Company called "IL Monte Galala"; a coastal village that break all the conventional boundaries by becoming a legend in AL Sokhna.
With a total investment of 11 billion dollars, Tatweer Misr launched il Monte Galala Ain Sokhna over a huge land space of 545 Feddan, to take integration into new realms.
To elaborate, Il Monte Galala Resort is a fully-integrated resort where residents can find a group of well-served facilities such as 2 clubhouses, 9 hotels, plazas, commercial areas, medical clinics, and a sports hub.
Yet, how the landscapes and crystal lagoons in the resort are perfectly designed to take the resident on a new journey of magnificence and luxury will be always counted as a huge plus!
Time to unlock the realms of luxury and the reasons that made il Monte Galala Ain Sokhna Go viral and won several awards, by reading this blog to the full. For further information related to prices and available units, meet our team now.
The location of Il Monte Galala Resort
Il Monte Galala is one of the most notable resorts because of its strategic location in Ain Sokhna which is a few kilometers away from Al Galala City; the ultimate destination for crystal clear water and eye-pleasing views.
extending
for over 60 km on the crystalline coastline from Adabiya port in the north to Zaafarana in the south.
The significance of the Il Monte Galala Location lies in its proximity to several prominent coastal projects, that feature a worldwide class of luxury, such as The Groove, Bay Mount, and Carnillia.
The distance between Il Monte Galala & other vicinities:
Il Monte Galala is located 40 km away from Suez Road.
The distance between the project and Katameya is 95 km.
The distance between the project and Cremat is 120 KM.
It's only 110 km away from Cairo.
The land space of il Monte Galal Ain Sokhna Resort
Such an awarded coastal project possesses one of the most land areas in Ain Sokhna of 545 Feddan, such enormous space inspired Tatweer Misr to keep in line with the widespread concept of creating a city within a city.
In other words, Il Monte Galala Ain Sokhna Resort features eye-capturing crystal lagoons and contemporary residential buildings and units that imply the deluxe expected level.
With a pledge to authenticity, Tatweer Misr Company perfectly allocated il Monte Galala space into 4 prominent glamorous residential phases (Maesta- Isla- Elara- Phia- with an extensive level of livability and opulence.
Top 4 Prominent Areas in Il Monte Galala Resort
Maesta: The ideal place for heavenly-sky views in Il Monte Galala Resort, as it's established over a cliff with 210 meters high above sea level. In Maesta, a 5-star hotel is launched with a total number of 150 deluxe rooms.
Isla: a new phase launched by Tatweer Misr that stretches around the beach with a medium cliff height of 104 meters to give residents panoramic enchanting views. The prominent type of unit provided in Isla is Villa V9 OF 220 m2 CONTAINING 4 Bedrooms with a private bathroom for each one.
Elara: Time to dive into the crystalline lagoons that are only interrupted by fascinating landscapes and the sound of the crashing sea waves. This phase is distinguished from Villa Type 11 which contains 3 bedrooms and 4 bathrooms.
Phia: a new iconic for beach tranquility and integration vibrancy is added in Monte Galala El Sokhna to make your experience second to none! This phase features a huge variety of chalets, almost 10 types. You can unlock the secrets of luxury with 2-bedroom or three-bedroom chalets.
The Architectural Design of Monte Galala Ain Sokhna
The long expertise of Tatweer Misr in the housing industry was an empowering key to selecting the most talented teams in the designing and planning firms globally to deal with.
In other words, Tatweer Partnered with Fabrizio Plessi, an Italian visual artist who launched more than 500 exhibitions worldwide, to create gentle coherence between the buildings and landscape percentages in Monte Galala El Sokhna.
More surprises are yet to come, the shimmering Lagoons in Il Monte Galala Ain Sokhna, amount 200,000 m2, were implemented by Crystal Lagoons Company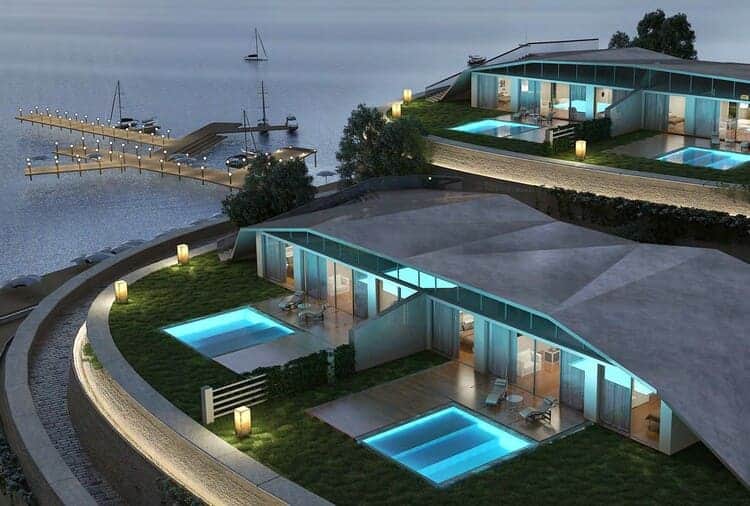 Units Space in Il Monte Galala by Tatweer Misr
Tatweer Misr launched il Monte Galala Resort in Ain Sokhna over 545 Feddan comprising an approximate number of 10,000 residential units, of which 1000 are hotel-based apartments.
IL MONTE GALALA is proud to collaborate with world-renowned Italian artist Fabrizio Plessi, bringing to life an abundance of awe-inspiring installations that glisten
TOP Features & Services in Il Monte Galala
To break the conventional perception of coastal projects and replace them with a more innovative vision that is full of livability and harmony, Tatweer Misr Company collaborated with BCI Studio, a global brand in the retail industry.
The below-mentioned services and facilities will give you an overview to imagine how you can spend a vibrant & interactive day in Il Monte Galala with your family or your friends.
Lagoons
The camp base is a one-of-a-kind adventurous experience for those who love to climb mountains.
The international marina yacht in IIl Monte Galala Ain Sokhna is designed in alignment with worldwide standards to offer joyful aquarium activities
Il Monte Galala includes 2 Clubhouses where residents have access to several services, such as a jacuzzi, sauna, yoga club, swimming pools, etc.
The Promenade is the perfect spot where residents can enjoy mouth-watering dishes with their beloved ones.
Il Monte Galala features an ultimate destination for tourists worldwide as it includes 4 luxurious hotels with a total investment capital of 2 million Dollars.
The company provides multiple Sports areas around the project to empower residents to pursue their favorite sport or activity during their vacation.
Building a medical center is one of the company's main priorities to support livability inside the resort.
Residents have the choice to enjoy a barbeque party.
Tatweer Misr partnered with Egypt's top security company to strengthen the safety in Monte Galala El Sokhna, through guards, E-gates, and an advanced CCTV System.
il Monte Galala Resort Prices & its Payment Process
Il Monte Galala Ain Sokhna is a perfect material for passive investment which your saving would be doubled.
The chalet price in Il Monte Galala starts from 2,250,000 Egp.
The price varies based on many criteria, such as the unit space, in which phase the unit exists, the surrounding facilities, and other unit specifications. Considering that the price is subject to change.
The payment system in iL Monte
Tatweer Misr decided to extend the installment period over 10 years, which means 120 months, to facilitate the payment process.
To buy a unit in il Monte Galala village, all you need is a 5% down payment.
The developer of Il Monte Galala
Il Monte Galala was launched by Tatweer Misr; a dominating real estate company with a long history of residential and commercial projects in Egypt since 2014.
The company has been striving to enhance the housing industry by adding sustainable value in all the development aspects; design, infrastructure, units, land division & facilities, and prices.
The construction of il Monte Galalal Sokhna took several phases with a total capital investment of 18 billion Dollars. The Company is keen to deliver well-curated units in a short time, as it announced that there're around 2200 residential units available for immediate residence at the end of 2021.
The company revealed that the establishment of the first four hotels coasted around 2 billion dollar.
FAQ about il Monte Galala Resort
Who is the developer of Il Monte Galala Resort?
Where is the Monte Galala Resort located?
What are the types of units in Monte Galala Resort?
Villas-Chalets-town houses
How can i contact the consulting team in Il Monte Galala Tatweer Misr?
Call the following number: 01101112515