Midtown Villa Compound by Better Home is perfectly designed according to the highest levels of elegance and practicality for those looking for an exceptional level of opulence and customization; an energetic lifestyle that makes their lifestyle more fulfilled.
Better Home Company, the project owner, has excelled in outlining breathtaking landscapes and frontal elements driven by nature in a way that ideally meets the residents' expectations for the house of their dreams.
According to the most important part of any residential project which is "prices", Midtown Villa New Capital Compound features unbeatable prices that guarantee premium quality.
Book your place now and get ready for a new lavish experience!
The location of Midtown Villa Compound
Midtown Villa Compound is located in the heart of New Capital City in R7, featuring proximity to the New Cathedral Church and the Diplomatic and Financial Districts. Indeed, Better Home Company managed to choose a strategic location for "Midtown Villa" on Mohamed Ben Zayed Axis which makes it super easy for residents to move freely either inside the city or reaching New Cairo within 20 minutes.
Check the nearby places from Midtown Villa Egypt:
Midtown Villa New Capital is highly close to the British University, in addition to being the opposite destination for Expo Land.
The compound is located near the central park and green river.
Al Masa hotel is considered one of the prominent facilities in Midtown Villa Compound.
The land space of Midtown Villa New Capital
Midtown Villas Compound is constructed on a wide land area that amounts to 53 Feddan, a considerable space that is perfectly partitioned due to customers' requirements into residential spaces, landscapes, facilities, and outdoor areas.
In Midtown Villa New Capital, the residential areas take place at 18% of the compound total space where the remaining part is allocated between greenery spaces (parks and jogging tracks) and facilities.
The Architectural design of Midtown Villa New Capital Compound
Midtown Villas Compound is considered one of the top outstanding projects of Better Home Company due to its ultra-modern sophisticated architectural design; a brilliant design that blends the Egyptian Identity and modern European techniques in one place.
Better Home Company gave much consideration to creating astonishing landscapes that would be the talk of the coming generations; spaces that can make residents' everyday mornings promising and bright.
Yet, the layout design of the provided residential villas in Midtown Villas shall be highlighted as an icon for luxury and comfort in the New Capital City, as all villas are designed with the perfect material and practical architectural techniques that guarantee material durability and more space utilization.
Types of residential units in Midtown Villa New Capital Compound
The fact that Midtown Villa Compound is the first project to be granted the license of development in New Capital City, it's necessary that the compound had to be classified with its uniqueness. Thus, Better Home Company intends to offer a wide selection of residential units in different spaces, which would be a clear plus for buyers to choose the most appealing choice for their families.
The available units for sale in Midtown Villa Egypt are (townhouses, small twin houses, large twin houses, and standalone villas.
The total number of Twin houses in Midtown Villas is 62, 310 townhouses, and 16 standalone villas.
Check the available villas for sale in Midtown Villas Now: 
The space of Villa Townhouse M in Midtown Villa Egypt is 200 m2, while the BUA space is 300 M2.
The space of Villa Town House C is 300 M2 (Net), This type is designed with two floors, and a roof.
The space of a small twin house in Midtown Villas Compound is 300 m2
The space of a large twin house is 330 m2; two floors and a roof are included.
The space of standalone villas, the largest type in Midtown Villas, is 450 m2, while the BUA is 500 m2.
The symmetrical layout architectural design of villas in Midtown Villas New Capital city and the glass facade element is used to add an extra layer of sophistication that people deserve.
Get your perfect home now!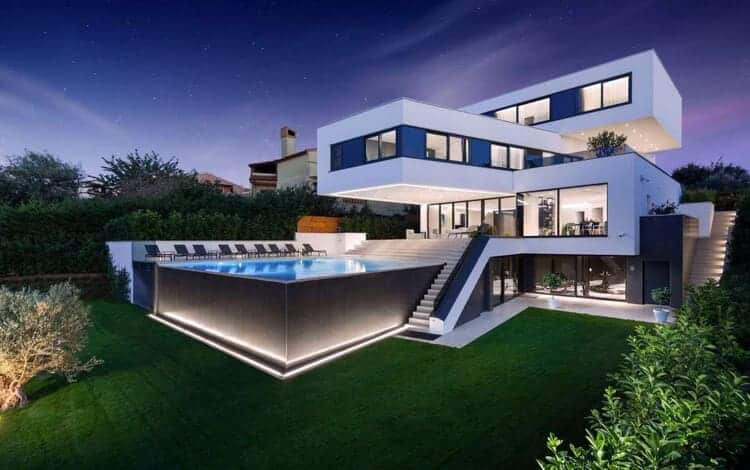 Top features & Services in Midtown Villa New Capital Compound
Besides the outstanding features of the residential buildings in Midtown Villa New Capital Compound, Better Home prioritizes the quality of living provided for people inside the Compound.
In other words, Better Home Company intends to offer a fully-faceted experience where all the top luxurious and essential demands of residents are immediately fulfilled in the highest quality, without the need to step out of the compound.
Midtown Villa Compound offers exceptional food& beverage levels through prominent restaurants that serve the top flavoursome meals.
Jogging tracks and Bike lanes are designed in Midtown Villa New Capital Compound to provide much space for residents to enjoy their morning and night walk without being interrupted by the transportation network.
Midtown Villa New Capital Compound includes different outdoor activities for both adults and children, such as the cinema hub, swimming pools, the commercial mall, and a playground area for kids.
Midtown Villa Mall hosts a group of stores and brands to provide a unique shopping experience for residents in Midtown Villa Compound.
The parking lots in Midtown Villas are perfectly designed to provide a wide space for the largest number of vehicles.
The social club in Midtown Villa Compound is well-developed to engage different people with different tastes in one vibrant experience.
Midtown Villa New Capital Prices & its Payment System
A competitive price, premium quality, and customized service are the top three elements that distinguish Midtown Villa New Capital. Midtown Villa prices are considered a lifetime opportunity for investment.
The average price for a mid-sized villa is 10,000,000 Egp
Meet our consulting team for an updated information
The Payment System of Midtown Villa Compound in New Capital City
Better Home announced that it's only a 10% down payment is required to purchase a unit in Midtown Villa Compound; with the permission to install the remaining cost over 7 years.
In addition to a 35% discount for property buyers who are willing to pay the total cost at once.
Contact us now to get your place!
The Developer of Midtown Villas: Better Home
Midtown Villa Compound is one of the first milestones launched by Better Home Company in New Capital City. Better Home Company was known as IT Components exporter until 2003 when the company decided to expand by of-shooting a new independent real estate company that strives to enrich the housing industry experience in Egypt.
Since the company's commencement in 2003, Better Home Group kept improving to provide its residents with a totally innovative and solution-based approach to projects in all fields: commercial, business, medical, and residential. Today, the company's portfolio highlights its success in developing around 65 projects all over Egypt; projects with a remarkable name that people mention as their icon.
Other projects by Better Home  
Faq about Midtown Villa New Capital Compound
Who is the developer of Midtown Villa New Capital Compound?
Where is Midtown Villa Compound is located?
What are the types of units in Midtown Villa Compound?
Townhomes- villas- apartments
How can i contact the consulting team in Midtown Villa Better Home?
Call the following number: 01101112515