O West is a real opportunity for a prestigious super integrated housing experience in which all your needs are delivered through a wide range of premier amenities.
O West Compound is considered one of the top-flight additions of Orascom company in one of the most pivotal locations in 6 of October city, hat later possessed great attention from property buyers for its orientation-based approach.
Luscious greenery areas, fully-integrated spaces, well-divided residential spots, and a medium size business hub with practical options, in addition to medical and security services, are the top services that distinguish O West Orascom Compound.
If the above-mentioned criteria are what you are looking for, then being fully aware of the compound details will help you make the right decision on the spot.
The location of O West  
In Parallel with Oasis Road, O West Compound is located near Gardenia Compound with a high proximity space of 10 minutes to Sheikh Zayed City.
Orascom Company determined a new oriented-based approach while choosing the location of its 1st residential project in 6th October to be highly close to Egypt's main gateways and top facilities in Egypt.
Nearby Places from O West Orascom 
O West Orascom is located 3 minutes from the Mall of Egypt.

The distance between the compound and the ring road is 7 minutes.
Those whose destination is Juhayna Square will need only to drive 5 minutes.
The distance between O West and October passage is 10 km.
The Compound is closely located to Arkan Plaza within 7 Minutes 
Dahshour Road is 3 minutes from O West Orascom.
Just 10 Minutes from Mehwar 
The Architectural Design of O West Compound 
On 1000-Feddan Land, Orascom constructed O West Compound on a considerable height of 30 m from the surface, which gives all units perfect landscape views and molid temperature.
The residential units and facilities in O West are designed by top-experienced designers who managed to represent a balance between the European luxurious techniques and the expected conventional classic designs that are a landmark in the fourth-generation cities in Egypt.
The residential spaces showcase a specialization to a certain category of units. For example, 60% of the total units are dedicated to Villas ( Twinhouses- Townhouses), while the remaining quantity, 40%, is dedicated to designing apartments ( Penthouses- Duplexes).
It's notable to mention that the total number of apartments in O West Compound amounts to 900 units stretching over 50 Feddan.
Check Hadaba Compound's full overview 
Residences and Neighbourhood in O West Orascom
Orascom Company offers a one-of-a-kind housing experience in which each resident can find a place to go, an activity to enjoy, and high quality to receive. 
O West Orascom is partitioned into different spaces upon purpose; each space is provided with what makes it suitable and highly appealing for residents through amenities and personalized choices.
Orascom contracted with HOK, one of the forerunner designing firms, to brilliantly designs the residential spaces providing multiple solution-based housing options in O West Orascom.
Regarding designing the landscapes, Orascom covenant with the world's leading stupendous views that managed to represent new fascinated landscapes with a flawless mixture of green areas and refreshing blue features.
1– Hillside Bliss in O West October 
Hillsides is a waterways-based area that is specialized in offering Villas in different spaces, twin houses and townhouses are included. Hillside O West October offers magnificent landscape experiences of green parks and artificial fountains.
Types of units feature Hillside Bliss
Prime Villa in O West October is designed within an average space of 250 Sqm.
The space of horizon Villa is 322 Sqm
The space of GrandVilla is 400 Sqm.
255 is the space of Townhouse Type H1
Townhouse K Type is provided within a space of 200 Sqm, two floors are included.
2- Club Residences | New Phase in O West Compound 6 October 
Another premier residential space in O West 6 October, Club Residences is distinguished with its strategic spinal location that overlooks one of the largest sports clubs in West of Cairo.
Units in Club Residences are designed with modern painting techniques( White theme or Dark theme) that help residents to get conceptualize more space and more sort of tranquillity as a wellness impact for the light-coloured themes.
In O West Compound 6 October, you can find a variety of housing options in different spaces, for more details contact us either through Whatsapp or phone number.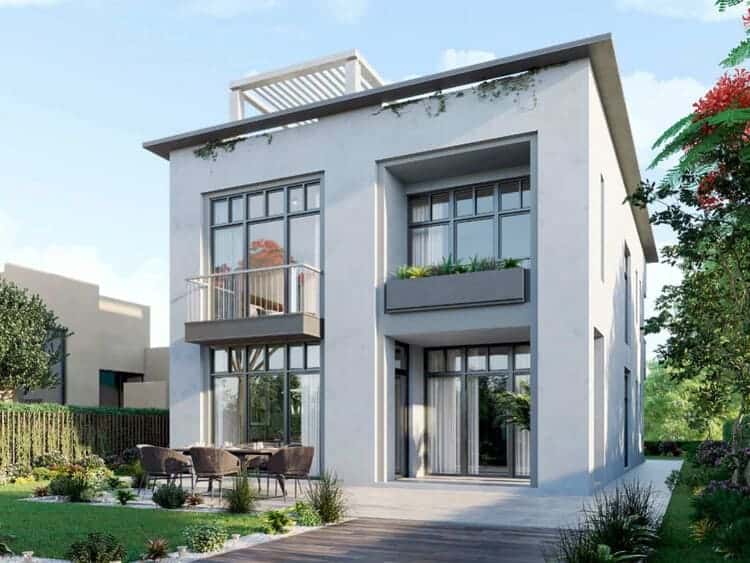 3- Hillside Villas 
In Hillside Villa, residents will get blessed with perfectly designed landscapes and eye-pleasant views that promise a cheerful morning and peaceful night walk.
The space of Single Storey Villa, which includes two floors, private garages, and a garden, is provided at 322 Sqm.
Hillside includes one of the largest units in O West, the Massion. The Massion is provided in two options regarding space: the first one is 520 Sqm the second one is a penthouse-based unit with a space of 565 Sqm.
4- Tulwa | New Realm of Luxury in O West Compound
An Inspiring name was driven from ancient Egypt which means "To rise". The distinctive design of Tuwla provides a unique experience in which residents feel a community within a community which is meters away from all the facilities in O West Compound.
Regarding the pleasing views, Tuwla shares the same lush greenery views and waterfront-based elements areas found in the other communities.
Multiple housing options are available for you in super-premium quality finishing; the available types are apartments, duplexes, lofts, and penthouses.
Tuwla features a peculiar unit " Type" that is composed of 5 floors with a perfect inner division; a home within a home.
For more updates regarding the unit's space and its division, Don't hesitate to contact us 
5- Whyt 
In a spinal design, Whyt space is designed with access to all the amenities in O West. Yet, the Whyt represents typical inspiring landscapes where both the green and turquoise elements are the main themes.
If you are looking for a superior community that is interwoven with an endless number of amenities and facilities with awe-inspiring landscapes, then Whyt shall join your list!
Whyt offers multiple housing options including Standalone villa Type A,
The space of a standalone Villa in Whyt starts from 214 Sqm.
If you'd like to upgrade your experience in a little bit wide standalone villa, then a 247-sqm unit that includes two floors with a roof may appeal to your needs.
The Last one, the middle choice, is designed with an average space of 229 Sqm.
Business district – O West 6 October 
Orascom company has enlightened the importance of providing real job opportunities for its residents by building a giant fully integrated work hub with multiple office options in a centric position in O West October.
Such an initiative facilitates the everyday life span for residents in which they can find the top needed amenities at their doorstep, which encouraged many residents to up-level a better housing experience for their families.
Benefits and features provided in O West October 
The plan of services and amenities of O West October was set In alignment with Orascom's vision of providing personalized highly-integrated living communities in which sustainability is one of the main themes for more aged spaces; resources that can still be reused by new generations.
Which is a clyster clear in the launch of the downtown district in O West, a multi-functional space that offers different social and commercial activities.
O West October offers one of the super stared Gyms that provides the latest machines and proficient trainers.
The compound features Walking trails and bicycle bikes for an energetic lifestyle.
A highly-equipped medical centre promise high care level for its patients. O West is characterized by one of the largest Commercial malls in the west of Cairo that hosts well-branded stores.
Superior services of spa and jacuzzi are meant to lessen the pressure of a stressful working day.
Security is positioned as the top priority for Orascom which can be noticed through the application of smart cameras and E-gated
Atm Machines that are set in sprawling the compound make your everyday transactions easier
Kids' playgrounds are equipped with high safety standards.
O West 6 October offers different multifunctional Venues
A Variety of offices adds more value to the business side.
Click on Etapa Compound for a full-detailed Info
O West prices and payment System
O West prices are positioned as the best real added value among the other properties in the market because of the distinctive premier quality received in return.
The average price of three-bedroom apartments in O West is 5.500.000 Egp.
The average price of a mid-size townhouse of 213 Sqm is 8.700.000 Egp.
One-button click to know all units price
The instalment systems of O West Compound
Besides O West competitive prices, Orascom announced the launch of super easy-to-handle payment plans that enable people to pay their costs periodically with ease.
The most required plan allows buyers to pay a down payment of 10% and pay the remaining over 8 years.
Get Consultation for more updates and the most suitable options for You!
Orascom Company: The Developer of O West
Orascom Company is a pioneering worldwide construction company that specialized in developing infrastructure for mega Projects, in addition to its footprint in industrial and commercial firms.
With multiple top-notch projects in different countries including the Middle East, Africa, and Europe, Orascom succeeds in acquiring a large amount of real estate market customers. On the top list, O West Compound is deemed as a strong competitive project in the residential sector in October City.
The company is renowned for its highly growing four pillars: possession of a leadership role in the field of construction, striving for pivotal partnerships with top worldwide related firms, commitment to take practical initiatives toward integrated sustainable communities, and, finally, enlightening the growth opportunities related to water treatment and different related renewable energies.
Other projects by Orascom, check Orascom projects by Country 
1- Orascom developments in Egypt 
Gouna
Taba Highest
Makadi highest
Byoum
2-Projects in Montegero 
3-Projects in Morocco
4-Projects in Switzerland 
FAQ regarding O West 6 October Compound
Who is the developer of O West 6 October?
What is the location of O West 6 October?
Sheikh Zayed, 3 minutes from Mall of Egypt
What is the prices of O West?
The average price is 5.500.000
What is the land space of O West?
What is the payment system of O West?
10% down payment & 8-years instalment
How can I contact the sales team in O West 6 October?