Latin District is a residential project full of luxury and lavishness ideas, beginning with urban designs to the smallest services provided. All you wish for is here in Latin New Alamein; all you have to do is make a 5% Down payment and let the adventure begin.
The project is based in a vital location in Almien City, near the airport and the main roads to move in and out anywhere, and there are more features in the Latin District, such as endless services and facilities, modern units, and, of course, the payment method that has been extended over the years.
For the available units for sale in Latin District, New Alamein, or any other inquiries, Don't hesitate to contact our counseling team.
Latin District Location
Latin District is located in New Alamein City, near El Alamein International Airport and Alexandria Matrouh Road, and features proximity to a large number of activities, such as the Health Club, Sports Club, etc.
The Nearby places of Latin District El Alamein
International Coastal Road
Down Town New El Alamien
El Alamein International Airport
Alexandria Matrouh Road
New Fouka Road.
Marseilia Aqua Park
Karl Beach Club House
Notch Beach Club
The Space and Design of the Latin District
Latina District New Alamien has been developed in 650 Feddan; 65% of the land is dedicated to the green landscapes that give the feature of comfy and pretty views for all units such as Chalets or Studios.
The Developer of Latina is Egyptian Saudi Developers, the one who gives attention to providing all needs in one place and making it a community out of external needs, so you will find Medical, Entertainment, Educational high level, and Security.
The Latina District was designated by the most knowledgeable architecture team, giving Latina City a culture that is based on Italy.
Units types & Spaces in Latina District New Alamein
Latin District New Alamein holds two types of units: Studios and Chalets, with spaces ranging from 65 up to 234 square meters. The Chalets in Latin differ in the number of bedrooms, as they start from one bedroom to four bedrooms.
The space of a luxury Studio in the Latin District Alamein starts from 62 square meters to 65 square meters.
A one-bedroom Chalet space is 88 square meters.
A two-bedroom chalet space is range between 100 meters and 136 meters.
A 3-bedroom Chalet space is range between 131 meters to 171 meters.
A 4-bedroom Chalet space is range between 174 square meters to 234 meters.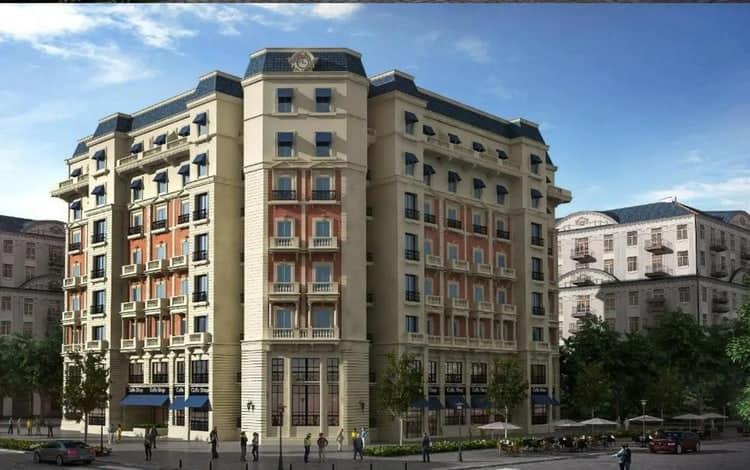 Services and Facilities in Latin District El Alamein
Services and Facilities are features in the compound, as they hold the highest quality to serve all kinds of services such as Medical, Entertainment, and High-Security Services all day. Learn more about the amenities that Latin District holds from the following:
Latin District El Alamein holds International schools and the International University for Science and Technology.
A huge library for all the bookworms.
The Developer has implemented hotels and towers inside the project to serve the visitors.
There are many Swimming pools for kids and adults, designated in different spaces and depths.
Landscapes and gardens all over the compound give the residents a beautiful view and a place to relax.
as well as aesthetic views such as Industrial lakes and waterfalls.
Restaurants and cafes serve all dishes tastes, Italian, Egyptian, and more.
Enjoy your free time by watching the trending movies in the Latin District cinema complex.
Track for running, walking, and cycling to all Latin residences and enjoy nature in its best way.
Garages in every building, featuring massive space, can hold numerous cars.
Social Club, sports fields, Gym halls, and an integrated health club
Hypermarkets 24h are located near all units and offer delivery service.
For shopping lovers, there are Commercial areas and malls.
Surveillance cameras, guards, and security personnel.
Marsa yachting, fishing, and beach activities
For medical services, the developer of Latin District New Alamein reinforces residents' health by providing pharmacies and medical clinics.
A children's play area is fully supervised by guards and surveillance cameras.
The Payment plans in Latin District
There are three different payment plans to choose from, and they are flexible and easy compared to the high unit prices in El Alamein City, and the installment could be extended over 7 years. Choose from the following, whichever suits you better:
The first payment method is a Discount of 5% in price amount with 5 years of installment.
The Second payment method: a 5% Down payment then 10% after 3 Months, and the installment is over 7 years.
The Third payment method: a 10% Down payment and 3 years of installments.
The unit Prices in Latin District by Saudi Egyptian Developer
Egyptian Saudi Developers are keen to provide all kinds of services plus reasonable unit prices, and it starts with:
The lowest unit space price starts from 4,000,000 EGP.
ِِAnd there is a 5% maintenance deposit paid upon receipt.
Stop searching for information on how to own the lavish lifestyle in Egypt at the best price and contact our team now…
About Latin District New Alamein Developer
Egyptian Saudi Developers was established in 1975, and it is one of the pioneering developers in the real estate field. The company has launched amazing residential projects all over the country, and Latin District is at the top of them all, especially in the new Alamein.
Your investment is granted 100% by being with this intelligent team that Egyptian Saudi Developers hold, plus the Developer of the Latin District New Alamein puts its mark on New Assiut, New Cairo, Haram, and El Mansoura.
Previous Projects
Dora Assiut
Zahraa Assuit
Zahraa New Cairo
Zahraa El Obour
Iskan Mansoura
Iskan New Maadi
Iskan El Al Amal
Iskan Nile Assiut
Jayd New Cairo
Studio Misr in Al-Haram
El Nozha Housing Heliopolis
Lake Dream in Dream Land
The Related FAQ about Latin District
What is the available instalment period in Latin District?
Saudi Egyptian Allows buyers to extend their payments over 8 years
What is the required Down Payment in Latin District?