Your Full Guide For New Cairo & 5th Settlement Compounds
An Overview of Fifth Settlement- New Cairo
A New Realm of sophistication and luxury is what New Cairo City Promises its residents. The City is labelled as one of the best prestigious neighbourhoods in Egypt that provides an exceptional level of integration in terms of educational, commercial, and labour services.
New Cairo represents a massive land space of 70,000 Feddan that is composed of multiple residential areas, Fifth settlement is one of the most prominent spots there. 
Yet, Rehab City, Madinety, and Mostakbal City came in second place after Fifth Settlement due to their luxury, population, and significance.
in this article, you will be able to figure out your next destination from a group of the best compounds in fifth settlement & New Cairo. as New Cairo Compounds are the key to experiencing a new definition of elegance and opulence.
What is the location of New Cairo City?
New Cairo City is expanded on the eastern side of the regional road- More specifically, it's situated between Cairo-Suez Road and Katameya-Ain Sokhna Road.
Accessibility is considered one of the main pros of New Cairo's strategic location; as it's connected to the main roads in Cairo so residents can go to their destinations, wherever it is, more easily. 
The Distance Between New Cairo & Other areas
The distance between NEW Cairo and Maadi is 15 KM
The distance between Madinet Nasr city is 5 KM.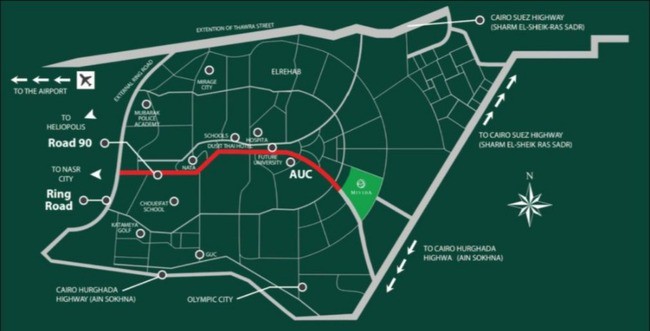 Why New Cairo City Shall be Your First destination For Residence?
New Cairo has been pursued by property buyers, Egyptians and non-Egyptians- because of its being the perfect place for living. In Other Words, whether you are a parent or a New Couple, a bright future in one of the best compounds in Fifth Settlement is determined. 
Most importantly, The government and investors are funding huge amounts of money every day to enhance the city's infrastructure for a non-stopping lifestyle. In other words, to prevent any misplanning issues that may happen such as flooding and wildfires.
Indeed, one can notice that most of the compounds in New Cairo City & Fifth Settlement support sustainability by lying on clean energy as a substantial.
in a nutshell, these respected efforts led to the emergence of the best compounds in New Cairo.
Educational facilities In New Cairo| Fifth Settlement 
The expansion of the educational entities in the city Day after Day makes it an alluring opportunity for movers. In the long term, the education level would be altered for the better, because the modern curriculums have been installed in the new schools in fifth settlement & New Cairo.
Top Schools near New Cairo Compounds
British International School

Candian international school

Metropolitan Scool

Aspire School 
Top Universities in the City 
German University in Cairo 

Candian International college

Future University in Egypt
Medical Facilities In Fifth Settlement
The level of health care provided in any city is considered a major purchasing factor for anyone. Because living in an amazing landscaped area with a poor care level would be risky for anyone.
Therefore, investors and real estate developers usually choose the location of their residential projects highly or partially near hospitals as a necessity to be classified as one of the Best Compounds in 5th settlement New Cairo City.
Top Medical Facilities in New Cairo
El Banafsag Medical Center (the First Settlement)

AL TABIB MEDICAL CENTER (the Fifth Settlement )
Air Hospital Specialist in 5th settlement new cairo
Al Manara Medical Center (Third Settlement )
Salamatek Medical Center ( Fifth Settlement )
Tabarak for Children (The First Settlement)
Outdoor Activities – Fifth Settlement 
New Cairo has been dominating the search engines in Egypt when it comes to the need to have fun by doing extraordinary activities, besides the increasing demands for the best compounds in New Cairo, or just having fine dining with beloved ones.
Get a hint about the top-visited places in Fifth Settlement:
Cairo Festival City Mall

Family Park

Kidzania Land

Wadi Degla Club

Platinum Club

Katameya Club

Al Zhour Club

Al Tyran Club
Mosques & Churches 
New Cairo Compounds is renowned for its being nestled among many huge mosques and churches that enable residents from all over the neighbourhoods to practise their regional rituals with ease.
Hassan Sharbtly Mosque

Al Hamd Mosque

Fatma Sharbtly Mosque

The Evangelical Church
Church of The Blessed Virgin Mary and St. Bishoy

Al Farouk Mosque 

St.Mary Church, Rehab.
Brothers Church.

Takwa Koloub Mosque.

Al Rahma in 5th settlement New Cairo

Al Ihsaan Mosque.
Most-Known Districts in Fifth Settlement
Highlighting the most notable districts and compounds in New Cairo is a clear demand for many.  The Fifth Settlement consists of a number of residential communities with integrated services and amenities, each of which has a collection of the best Fifth Settlement compounds with high levels of finishes, designs, and execution magnificence.
5th settlement New Cairo has become people's choice to grant a promising future to their families.
Meet Our Team For Consultancy 
1-Lotus District 
Lotus Neighbourhood came in second place after Al Narges due to its strategic location that extends to encompass the southern and northern plots. As the district extends to connect Madinety and Shrouk City together. 
Yet, it's worth mentioning that Lotus District is located near multiple fun and social based zones in Fifth Settlement such as Royal Club, Platinum Club, and New Cairo Club. 
2-Al Narges District 
Al Narges is one of the most known districts in Fifth Settlement that features access to all of the following: Mushaira Tantawi axis, Regional ring road, and Suez Cairo road.
Al Narges which is 3 minutes away from Al Mushaira Hospital is known for its well-developed infrastructure, including a wide group of the top compounds in New Cairo.
if you are looking for a residential opportunity in the 5th settlement near Al Narges District, our team has plenty of options to match your specifications.
3-Choueifat District
What distinguishes the Choueifat from the other districts is its inclusion of well-known international schools, in addition to the Choueifat School. The Choueifat possesses a good location near the entrance of the City.
New Cairo Compounds that are located in the Chofeiat District feature endless location and integration advantages, contact our team to choose your destination.
4-El Kronfol District
El Kornfol came on the top list of New Cairo's districts in terms of deluxe and integration. Al Kronfol includes a group of facilities such as 
The Public Prosecutor Office, Egyptian State Authority,  Virgin Mary Catholic Church, and Ahl Masr Hospital.
Top Compounds in Fifth Settlement| New Cairo
If you are one of those who are looking for the perfect place to move into with your family, or even alone in a small studio but you always try to fetch the main specifications of each compound, this article shall be your ultimate guide! 
Fifth Settlement includes a group of the best compounds where residents are privileged to enjoy a distinctive level of luxury and comfort. 
Meet Our Consulting Team for well-advised options!
Palm Hills is one of the best residential compounds in New Cairo City and promotes the concept of a City within the City. As the compound is constructed on a massive land space of 450 Feddan comprising +4500 Residential units of different types. 
Palm Hills New Cairo in 1st settlement is constructed on a huge land space of 100 Feddan and includes a huge variety of facilities of services for all family members.
Central Park

Medical Center

Kids areas & Nuresey 

Commercial Mall & Clubhouse

Food Corner

High level of security 

Maintenance services 
The Compound's design is set by SAWA company which managed to apply the latest architectural technique that brings comfort to residents.
Sarai Compound is one of the notable residential projects of Madinat Nasr Company for Developments (MNHD) that dominated the market in a short period after its initial launch. 
Sarai is located only 15 minutes away from the American University, 5 minutes from the New Capital City, and 15 minutes from the regional ring road.
What makes Sarai a perfect place for living is its inclusion of multiple educational and recreational services. Such as an international school and commercial mall.
Taj City| Best Compound in the 5th Settlement 
Taj City is categorized as one of the largest compounds in New Cairo as it's located on a huge land space of 900 Feddan, MNHD managed to provide real value for its customers from the project space by providing a wide group of facilities and services.
Taj City comprises a sporting club, restaurants complex, nursery and school, small hotel, events hub, medical centre, kids area, etc.
The Brooks Compound is one of the top branded names in Fifth Settlement that takes your housing experience to the next level of luxury. The Compound is located in the heart of Fifth Settlement in Plot 1. 
PRE Company, the project developer, exerted its efforts in providing a balanced lifestyle where residents can enjoy a balanced lifestyle where health and pleasure are essentials. This the company dedicated around 12 Feddan to launch a sporting club, in addition to 7 Feddan to construct a commercial mall that is expected to include different well-known stores.
Bloomfields Compound is one of the eminent projects of Tatweer Misr Company in a strategic plot in Mostakbal City. 
What distinguishes Bloomfields from the other projects in the neighbourhood is its noticeable large space that amounts to 450 Feddan. Indeed, Tatweer Misr had a vision of such a space that lies on integration and space utilization. 
As the compound offers its customers what it takes for a luxurious and comfy lifestyle, including a mall, medical centre, nursery, parking lots, sporting club, complexes, etc. 
Surprisingly, around 80% of Bloomfields is covered with landscapes and lush greenery parks that are unified together representing a state-of-art community. 
Il Bosco Compound is one of the most distinctive residential compounds in New Cairo City, as the compound is named after the Green City because of its massive green landscapes that occupy around 80% of its total space.
Misr Italia was keen to classify its project with a prime location that is near different livable spots in New Cairo. So Il Bosco New Cairo is located 5 minutes away from Madinety, 10 minutes away from the American University, and finally, it's around 13 minutes from the New Capital City.
Il Bosco includes a sporting club, a health hub, a restaurant complex a commercial mall, medical centres, an educational school, etc.
Tabarak Company launched its milestone " 90 Avenue, in 5th settlement New Cairo, more specifically on N'Teseen Street which is 7 km away from the Suez Ring Road.
90 Avenue is constructed on 50 Feddan on which property buyers can find a huge variety of residential units. As the compound includes +65 residential blocks of which each floor includes around 4 apartments, with a total number of five floors for each block.
Hyde Park in Fifth Settlement
Hyde Park Compound in Fifth Settlement offers a one-of-a-kind urban experience that copes with the urban lifestyle in terms of luxury and sophistication. 
What distinguishes Hyde Park is dividing the compound's supermassive space of 1500 Feddan into 6 distinctive residential spaces with unique peculiar design units (The Residence- Royal- Peaksville- Hyde Park Corner-Garden Vile-Garden residence)
Main Services in Hyde Park 5th settlement  (International School- Business district- world-class hotel-a huge park- medical centre- sports club)
Waterway Company for development launched its first milestone "The Waterway Compound" in Fifth settlement near Cairo festival city. 
Despite the fact that the waterway doesn't share the same space feature as the above-mentioned residential projects, yet, it offers nearly the same integration level. In other words, the project includes endless services such as club houses- a spa- a gym- commercial malls- pharmacies- retail stores)
Fifth Square Compound is one of the top-known projects of Al Marasem Compound because of its strategic location which is 5 minutes from the American university.
Fifth Square features a distinguished architectural design which is a mixture between the skyish colour and the vivid green colour of nature blending together to form a flawless view. 
The Compound offers a huge variety of residential units in different spaces that start from 80 Sqm up to 270 Sqm.
Fifth Square is considered one of the best compounds in the fifth settlement because of its provided services which include: Medical Clinic- kids' area- nutrition-based hub- gym-clubhouse- swimming pools- pharmacies- outdoor activities
Al Burouj| 1 Of the top projects in New Cairo
Al Burouj Compound has been receiving endless requests from property buyers because of its strategic location inside Mostakbal City and its proximity to the New Capital within 10 minutes which can be considered a real opportunity for investment. 
Capital Group Properties invested +4.4 billion Egp to develop and enhance the lifestyle in el borouj by providing many services ( sporting club- international school-CADMUS International Schools – clubhouse-commercial mall)