Belle Vie Compound is considered one of the top milestones set by Emar Misr Company, therefore people call it " Belle Vie Emaar", located in the heart of Sheikh Zayed City.
Emar Misr Company is meant to redefine the housing experience in Egypt through its flagship project " Belle Vie" which is developed on 500 Feddan; a gated community where residents are privileged to get whatever they need within one step away from their homes.
Yet, the project of "Belle Vie New Zayed" surpassed customers' expectations with its outstanding residential unit variety that lies on a solution-oriented approach.
In a nutshell, Belle Vie Emaar comprises all the possibilities that classify the compound as one of the top luxurious residential communities in Sheikh Zayed City.
Time to upgrade your experience now!
Belle Vie Compound Location
Belle Vie Compound is located in Sheikh Zayed City, more specifically situated within a 3-minute distance from Cairo-Alex desert road. Such a strategical location that is connected with the main gateways is the first privilege shall be mentioned; as residents will be able to commute freely around the city arriving at their destinations within minutes.
The neighbourhood of Belle Vie New Zayed is considered a plus for property owners to reside near the top high-class communities in October, such as Beverly Hills Compound.
Check the nearby places from Belle Vie Emaar:
Mall Hyper one is 3 minutes away from Belle Vie Emaar.
Belle Vie New Zayed Compound is located 3 minutes away from Alexandria-desert road.
The distance between the Rwod Al Faraj axis and Belle Vie Compound is 3 minutes.
To arrive at Cairo Gate from Belle Vie is a 15-minute distance.
The distance between Al Dabaa Corridor and Belle Vie is 8 minutes.
It's only 8 minutes away from Sphinx airport.
The land space of Belle Vie New Zayed & its iconic design
Emar Misr Launched a new Mega Project "Belle Vie New Zayed" on a massive land space of 500 Feddan, such a spacious space was one of the main reasons behind providing the top-notch integrated residential compound in October City.
How the compound is divided into connected valleys with so much space of lush greenery areas in between is a manifestation of the contemporary lifestyle brought recently in the fourth-generation cities.
The Compound is ideally designed into different spaces where each space comprises a certain type of unit.
For example, Lake Villas and Garden Villas feature elegant villas only, Plaza residents and Beach View Residence are the top two spaces to find well-utilized apartments in Belle Vie, and finally, the space of valley villas is dedicated to town villas.
The architectural design of Belle Vie New Zayed
Belle Vie New Zayed is classified as one of the top flagship projects in Sheikh Zayed City due to its remarkable arhctictural design, which was a clear scheme for Emaar Misr Company.
The flawless facilities allocation and the iconic design represented in Belle Vie that enable residents to  move from their house to drive their kids to their school and then move to their business space is the newly lavish lifestyle of 21 century that makes life easier .
Most importantly, the space designed between the residential units is wide enough to ensure safety and privacy, as the design team outlined trails of 50,7 m2 in width to separate between villas.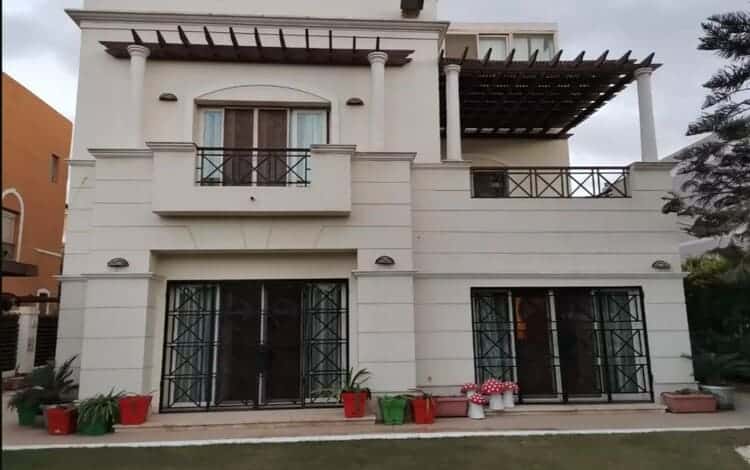 Types of residential units in Belle Vie Emaar Compound
Emar Company was keen to offer the most required residential units that customers are looking for; as the unit space plays a critical role in the purchasing factors for property buyers.
If Belle Vie Compound in Sheikh Zayed is one of your top preferences for the ideal home, you can choose from the following types (Standalone Villas- apartments- Quad Villas, Town Villas), check the average space of each type of unit:
The space of Apartments in Belle Vie starts from 86 to 215 m2.
The Duplexes space starts from 164 m2 and up to 260 m2.
Townhouses in Belle Vie feature an average space of 200 m2.
The space of Villas starts from 204 m2 and up to 516 m2.
Contact us to check the available units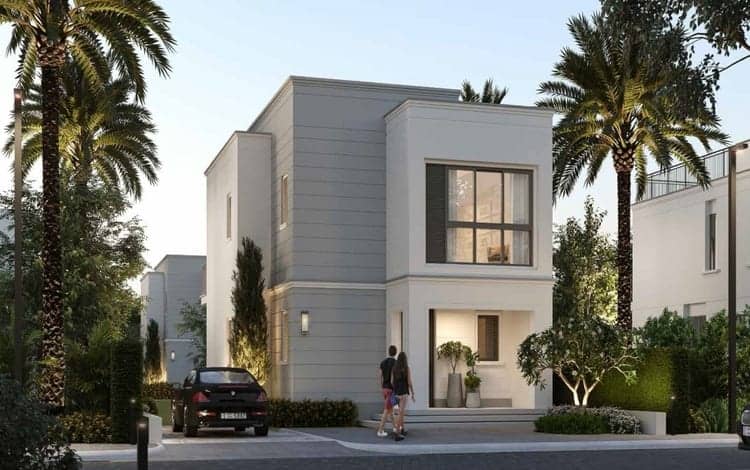 Top features & services in Belle Vie Compound by Emar
Belle Vie Compound supports the integration model as its main approach, thus, residents can find a wide range of services and facilities within minutes from their homes.
BV Club is constructed on a large land to provide residents with ultimate support for their favourite sports through expert trainers and well-prepared grounds, and advanced equipment.
On second place, the education facility in Belle Vie comprises an international school, a nursery, and a learning hub so residents can boost their
 A complex of stores and bakeries is available inside the Plaza, where elegant apartments exist.
The Town Center is the ideal space for Belle Vie New Zayed residents as they can enjoy five-class beverage service at their favourite restaurant.
The compound is designed with lengthy Jogging trails that embrace all the residential spaces.
Belle Vie is renowned for its strong surveillance system that covers all public spaces.
Belle Vie Emar includes Many playgrounds for children
Belle Vie commercial area offers a five-star shopping experience for its residents as it includes well-known stores and brands.
Belle Vie Emaar prices & Payment system
Belle Vie Compound by Emaar offers super competitive prices for its units that grant a premium quality in terms of finishing and the surrounding facilities.
The average price for a mid-size apartment or duplex is 4.700.000 Eg.
The average price for Villas in Belle Vie Compound is 8.900.000 Eg.
Instalment system of Belle Vie Compound
For the reason that how the total cost is paid impacts buyers' decisions, Emar Misr announced that property buyers are allowed to pay the remaining of their costs over 8 years.
Purchasing a unit in Belle Vie Emaar Compound with a 5% down payment.
The developer of Belle Vie New Zayed Compound: Emar Misr
Emar Misr Company, a leading real estate Company, was introduced to the global market in 1997. Since then, the company kept making huge progress in the housing industry in Egypt and other different countries, by providing exquisite personalized services.
After 25 years of success, Emar Misr today is celebrating developing around 1.6 million meters for residence and business purposes, with an approximate number of 105,500 buyers.
Emar Misr has been contributing to launching top-notch projects with a clear focus on the fourth-generation cities, such as Uptown Compound in the heart of New Cairo, Cairo Gate in Zayed City, and finally, Marassi Compound on the North Coast.
Other Projects in October City
FAQ about Belle Vie Emaar Compound
Who is the developer of Belle Vie Compound?
Where is Belle Vie Compound is located?
What are the types of units in Belle Vie Compound?
Townhomes- villas- apartments
How can i contact the consulting team in Joulz Compound?
Call the following number: 01101112515