Al Marsem Company adds its first milestone in New Zayed "Mar Ville Compound"; A new Residential community that invites residents to explore new meanings of luxury, comfort, and opulence.
Mar Ville New Zayed Compound would become people's gateway to the house of their dreams, the highest realm of luxury that they have ever dreamt of. A well-curated community, Spanning over 111 Feddan, that comprises a group of recreational, commercial, and essential services.
Al Marasem Company plans to develop a mega residential project that would be the perfect destination for those who look for prestige, quality, and luxury.
Whatever the type of home that fulfils your needs, you will find it inside Marville New Zayed in high quality, said specifications, and competitive prices.
Meet Our Consulting Team Now for Detailed information 
The location of Mar Ville New Zayed
Marville Compound by Al Marasem is centrally located in a luxurious neighbourhood in Sheikh Zayed City"New Zayed"; on Cairo – Alex Road in front of Sphinx airport, a highly-developed community that has become an excellent choice for families and new couples because of its vitality and proximity to different local amenities.
The Nearby Places from Mar Ville in New Zayed
A group of high-class compounds, such as Dejoya Zayed.
An adjacent to different main roads, through which residents can arrive at their destinations effortlessly, such as Dahshour Road,
Ring Road, and Muhamed Ben Zayed Axis.
Sphinx Airport.
The Land Space & Design of Mar Ville Compound
Revealed in the latest presses by Al Marasem Development that Marville Compound will occupy a large land space in New Zayed, which represents 111 Feddan.
Developing a one-of-a-kind residential project that embraces customers' high tastes and requirements for a promising and fulfilling lifestyle was highly supported by the project's huge space.
Marville New Zayed will be divided into 4 main stages, with a distinguishing structure and a group of units in each one.
Most importantly, The company announced its strict and picky structure in setting the masterplan of the compound, in alignment with the European and latest standards. In other words, all four stages would be complemented with multi-functional areas from which residents can get all their needs.
Types of Units in Mar Ville Sheikh Zayed
Marville Al Marasem Compound offers a unique collection of luxury and well-planned units, including apartments, villas, and townhouses.
To be the first one who knows every single detail about the available apartments in Marville Sheikh Zayed Compound, meet our consulting team now.
Top Features & Services in Marville New Zayed
Al Marasem Company doesn't provide only some brick-and-mortar buildings, instead, it provides a new world in which every single detail is predestined to provide a luxurious service or solve a problem.
Integration
Marville New Zayed Compound will comprise a huge collection of Retail stores and groceries in the commercial mall, besides the well-allocated ones all over the compound.
A group of cafes, workspaces, and community hubs enable residents to enjoy quality time executing their mission freely without going so far.
Rejuvenation & hobbies
A Well-being centre will be one of the main destinations in the projects so that residents can enjoy their weekend through different rejuvenating services, such as a spa, jacuzzi, and.
A Sporting club will be built in the centre of Mar Ville Marasem to enable residents to share their favourite type of sport with their similar-minded enthusiasts.
Kids area
Swimming pools.
Luxury Design
Marville New Zayed villas and apartments are designed in alignment with the latest architectural styles, which include using glass facades, utilizing outer spaces for gardens, etc.
Greenery Verdant represent an essential component in the project's structure.
Safety 
Safety in Mar ville New Zayed by Al Marasem isn't only supported through advanced CCTV systems, as seen in Al Marasem Compounds, but also through a well-structured plan that promotes the highest levels of safety for vehicles, walkers, and players individually.
Marville New Zayed Prices
While announcing the launch of the project, Al Marasem referred to the fact that Mar Ville Compound Prices would be one of the best in New Zayed City, of the same quality.
The average price for a metre in Mar ville New Zayed starts from 60,000 Egp.
The company revealed that it would start accepting EOIs starting from 11-Oct-2023, which would be 100K for Apartments and 150K for villas–refundable cheques.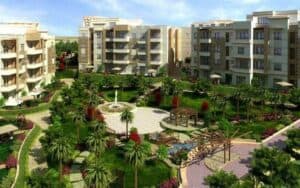 Marville Al Marasem Payment System
Al Marasem Development assists its customers in having the home of their dreams in Marville Sheikh Zayed, through flexible and easy payment systems.
Buying a home in Mar Ville Al Marasem requires only paying a 5% down payment.
The remaining cost is installed over 7 years.
Delivery in 3.5 years
Al Marasem Development
Al Marasem Development is one of the top branded real estate companies in Egypt that aims to set its own definition of luxury; provoking customers to normalize luxury and elegance in the smallest detail in their day.
Al Marasem has been endeavouring all this time to provide all that's new in the market, only that copes with residents' needs and requirements; an innovative design, premium quality, vital location, and immediate and high-quality services.
Al Marasem Fifth Square is considered one of the main and early touchstones for the company launched in New Cairo, which was perceived by an exceeding sales record, due to its ROI.
Other Projects in New Zayed