The place that you are searching for is Aroma El Sokhna, which has been developed by one of the world's most famous luxury developers, Residence Developments, which has a long history in the real estate field.
Aroma Residence El Sokhna is rolling over 70 Feddan, holding all the amenities that you are looking for to make your residents stay smooth and comfy, as all the services of supermarkets and pharmacies are located near Aroma units.
The Developer provided different unit types to give its customers many options to choose from in this integrated community based on El Sokhna. The luxury is waiting for you in one of the studio apartments, twin houses, villas, or chalets, with spaces starting at 90 square meters.
Searching for the best deal of the day? Here you are. Contact our team and learn more details about Aroma El Sokhna …
The Location of Aroma El Sokhna
Aroma Residence is one of the luxurious resorts in Ain El Sokhna in Egypt. The location is situated on the Red Sea coast in Ras Al Khaleej, near vital areas and important roads. You will need about 45 minutes to arrive from New Cairo.
The places located near Aroma
Aroma Residence is located 37 km from Suez.
Stella Di Mare is 7 km from the village.
The New Capital is about 45 minutes.
Village Cape Bay Sokhna.
Village Lasirena Palm Beach.
Suez Road
The space and Design in Aroma Residence in El Sokhna
Your unit in Aroma El Sokhna will give you the chance to live in a stunning place that is surrounded by a green landscape that gives you a comfortable view every morning and offers many activities to do in the landscape, such as yoga, jogging, bike cycling, and other fun activities in the heart of the green lands.
Aroma Residence in Ain Sokhna is developed in 85 Feddan, and the developer offered 5 types of units with varying spaces starting from 50 meters square, and you will enjoy the overlook view at the beach that extends over 300 meters square with a 100–meter depth.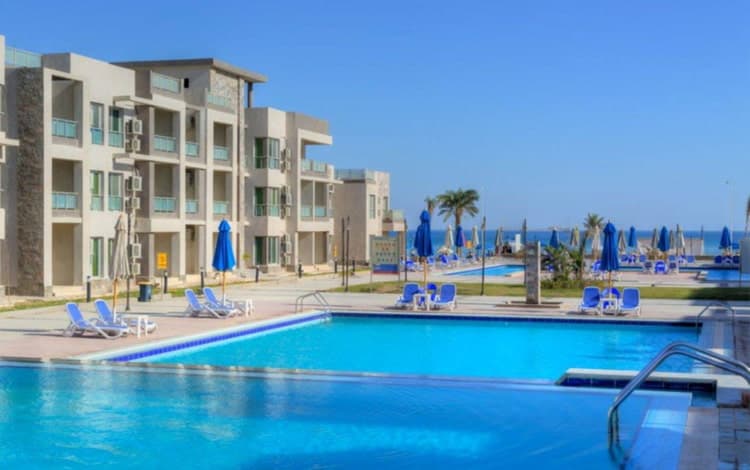 Aroma Residence Chalets and studios
In Aroma, there are 4 phases, which differ by the units and spaces within each phase.
Every phase of the project is distinguished by its design, and all the village units are linked to the amenities and needed services.
1- The space of Studios in Aroma Residence starts from 50 Sqm
2- Chalets contain 1 bedroom with spaces starting from 80 Sqm
3- Rooms Chalets contains 2 bedrooms and the unit space starts from 100 Sqm.
4- Duplex Chalets The space starts from 200 Sqme.
5- Standalone Villas The space o starts from 250 Sqm.
2nd Phase in Aroma El Sokhna
1- Chalets with 2 bedrooms start from 115 Sqm
2- Chalets with 3 bedrooms start from 150 Sqm
3- Penthouse Chalets range from 145 to 185 Sqm
3rd Phase in Aroma Sokhna
1- Chalets with 2 bedrooms start from 95 and up to 115 Sqm
2- Chalets with 3 bedrooms start from 150 Sqm
3- Penthouse Chalets start from 145 and up to 180 Sqm
4th phase (Malva) in Aroma Residence Sokhna
The unit spaces in Malva start from 350 Sqm, with a garden of 290 Sqm.
The features of living in Aroma Sokhna by Residence
Each Residential phase in Aroma Sokhna is distinguished by multi-faceted spaces that offer different types of services and facilities.
Swimming pools suit all ages.
Restaurants and cafes serving high-quality
The health club is located in a massive area.
Gym, sauna, and jacuzzi.
Security and CCTV
Hypermarkets near all the units with delivery options 24 hours a day
Pharmacies.
Hospitals and Medical centers
Nurseries in Aroma El Sokhna.
Shopping mall center, cafes, kids' area
Barbecue area and spaces dedicated to special events.
Gardens and green landscapes surrounded all the units in Aroma.
Kids' playground safety is 100%.
Football, tennis, and volleyball grounds.
The unit prices in Aroma Sokhna
Aroma Residence Sokhna not only provided many options of units and spaces to choose from but the services and facilities came varied to make all residents find what they search for inside the village.
The prices were also perfectly suitable for all Residence Developments customers, as the lowest unit price at Aroma El Sokhna is 380,000 EGP.
The payment method in Aroma Residence Sokhna
Aroma Residence holds the perfect payment plan between all the resort surroundings, as the developer is keen to provide the easiest plan to its customers.
The payment method is
30% in the contract signing.
15% on the handover.
55% will be divided into 4 years.
If this deal is more convenient, what are you waiting for?
The developer of Aroma El Sokhna
Aroma Sokhna is considered one of the greatest villages that have been established in EL Sokhna, and one of the more notable features of the project is the developer who stands behind this outstanding resort.
The developer of this project is Residence Real Estate Development, which has excellent experience in the real estate field, as shown in Aroma Resort as an example.
The developer projects
FaQ about Aroma Residence
Where the village are located?
on the Red Sea coast in Ras Al Khaleej
What is the payment method in Aroma?
30% deposit, and the installment extends over 4 years