Botanica New Capital Compound has become one of the first choices for residence in Egypt, especially for those who are looking to give their lifestyle an extra boost of luxury, elegance, and practicality.
Living in Botanica Compound is considered a redefinition for the housing industry, as the compound represents a high level of integration covering all residents' needs with premium and immediately-fulfilling services.
New Generation development distinguished its project "Botanica Compound" by offering lavish residential units of villas, apartments, and studios at competitive prices, a price that cannot be resisted!
To know the available units for sale at Botanica New Capital, you can contact one of our team easily and pick what suits you the MOST!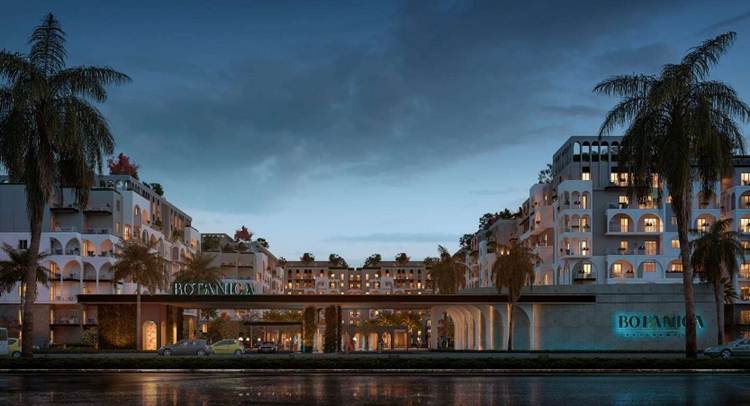 The location of Botanica Compound.
Botanica Compound is located in the heart of New Capital City in the 7th district, more specifically in E2A Plot. Being situated on the Muahmed Ben Zayed axis facilitates the transportation between New Capital City and New Cairo.
New Generation for Development is determined to privilege its customers with a strategic area that is embraced by the new capital's top facilities and utilities. So whatever their need is, it would be fulfilled immediately in Botanica Compound.
Must-visit places from your Home at Botanica:
The Expo Land is the first place to mention when huge events and conferences are being conducted.
For places that add more fun, residents can easily visit the Green River.
To conduct any mission that is related to government procedures, the government district is a few minutes away from Botanica Compound.
The parliament district, the presidential palace, and the diplomatic district are the top three facilities located near Botanica Egypt.
Last, but not least, Botanica Compound possess a proximate location to the Medical City.
The land space of Botanica New Capital Compound
New Generation Development selected a considerable land space of 24 Feddan for its project "Botanica New Capital".
Coping with the 21-century luxurious lifestyle, New Generation Company set a sharp-witted master plan settling that around 75% of the compound's land space is dedicated to the designation of awe-inspiring landscapes; lush greenery areas that enfold the grandeur buildings.
The Architectural Design of Botanica Compound in New Capital City
New Generation Development was prudent while picking the design team who would be responsible for setting the layout for Botanica. As a result, the architectural design of Botanica Compound showcases a genuine mixture between European techniques and the authentic footprint of classicism in Egypt.
The residential buildings and Commercial Mall in Botanica Compound feature splendor symmetrical shapes that are executed in the first place to align with the traits of a healthy environment. Indeeed, such a magnificent design would change the traditional perception of housing in Egypt, adding more sense of elegance to property owners.
Types of residential units in Botanica Compound New Capital
Botanica Compound New Capital Compound includes 22 residential buildings, each building containing 8 floors. The developer of Botanica Compound planned to populate a large number of its customers by providing nearby 966 residential units.
For a variance-based experience, Botanica New Capital is renowned for its residential unit variety, as it includes apartments, duplexes, and studios.
The minimum space provided in Botanica Compound is 70 Sqm for a small studio.
The space of two-bedroom apartments in Botanica is 120 Sqm.
The space for three-bedroom apartments starts from 154 Sqm.
All units in the compound are fully finished with the perfect space utilization techniques.
Meet Our Consulting Team To Find The Best Choice For Your Family!
Top features & Services in Botanica New Capital Compound.
A fully-faceted housing experience where all residents' needs are perfectly delivered with excellence is the top prominent feature that distinguishes Botanica Compound in New Capital City.
If Botanica Egypt is one of your top preferences, check out some of the provided services:
The Clubhouse in Botanica is the favorite place for all community members, it's the place where they can gather to share communal interests and hobbies.
The health premises in Botanica are the first place residents can visit when they get drained and need to relax at the weekend.
Botanica features Promenading trails and cycling tracks for safe jogging.
The compound includes a housing services hub to facilitate residents' daily tasks.
The Medical aspect is served with medical clinics and pharmacies.
Botanica New Capital Compound is one of the top highly-secured compounds in New Capital City because of its implemented e-gates, CCTV system and safeguards.
Botanica Compound features breathtaking green spaces where customers can practice different activities.
The plaza of Botanica New Capital Compound promises an exceptional experience where residents can shop for their needs and enjoy fine dining in their preferred restaurant.
The prices of Botanica Compound New Capital & its Payment System
Purchasing a luxurious home in such a prestigious community in the heart of New Capital City is considered a golden opportunity that shouldn't be missed out, especially after knowing that New Generation Development settled competitive prices for the available units for sale in Botanica.
The meter price in Botanica Compound starts from 9,200 Egp.
For detailed information on the price of each unit, Contact us Now
The payment system of Botanica New Capital Compound
New Generation Development was keen to offer the most applicable payment system for its customers, a portioned down payment and long instalment period is the perfect choice for many.
To purchase a unit in Botanica New Capital, only a 10% down payment is required. The remaining cost can be paid over 10 years. Kindly note that no interests are added.
Time to upgrade your housing experience in Botanica Egypt!
The developer of Botanica New Capital Compound
New Generation Development was founded in 2018 due to a collaboration between Cairo Capital for development and Emirate Misr for development under the supervision and management of Dr/ Assem Fadel.
New Generation development launched its project "Botanica" with an initial investment of 100 million dollars for the first year.
It's worth mentioning that the great efforts of NGD were rewarded by attaining the trust of multiple branded companies in the investment and real estate fields. One of these partnerships was for the benefit of the Trade Union Committee and Chaddad Group for the construction.
Other projects in New Capital City
FAQ about Botanica Compound in New Capital City, Egypt.
Who is the developer of Botanica New Capital Compound?
New Generation Development Company
Where is Botanica Compound?
New Capital City, E2A Plot in R7
What are the types of units in Botanica New Capital Compound?
Studios-apartments- duplexes
How can i contact the consulting team inBotanica New Capital Compound?
Call the following number: 01101112515