Blue Blue Sokhna is the new resort established by one of the leaders in the real estate market "MG Holding" that aims to provide the highest levels of luxury, comfort, integration, and prestige.
By choosing a property to enjoy quality time in Blue Blue, you will not think a lot because the developing company works to provide all the ways that make residents' lives easier, through the huge health club, floating restaurants around a space of 12,000 meters, clubhouse, retail area, etc.
Book your unit and enjoy the payment plan that will give you the chance to have the best vacation while paying the value of the unit at Blue Blue Ain Sokhna with an instalment that extends over 9 years.
The location of Blue Blue Sokhna
Blue Blue is located in a vital area in Ain Sokhna City, 3 minutes from the third exit of the Galala New Road.
The resort is located near roads and many services that will absolutely meet your needs, so the Blue Bay El Sokhna project is near:
Blue Blue Sokhna is located on Zafarana Road
it is 80 minutes away from Cairo.
You will travel 15 kilometres to arrive at the Porto Ain Sokhna Resort.
It is about 90 kilometres from the heart of the new capital city.
The space and design of Blue Blue El Sokhna
Blue Blue El Sokhna is distinguished by its designs, which move the concept of prestige to another aspect. MG Development was keen to deal with and make a contract with the finest engineers to provide a luxurious lifestyle to its customers.
Blue Blue Ain Sokhna is established in a massive area that allows the developer to implement different unit spaces and provide several services that the customers in the resort need.
The Mg Holding project space is about 30 Feddan (120,000 square meters), with five different residential models executed:
Blue Island
Lake View
Blue River
Sea View
Waterfront
All phases and units are surrounded by green lands that take up 80% of the project land to provide a friendly green view.
The Space of units in Blue Blue Resort in Ain Sokhna
The developer offers Blue Blue Ain Sokhna 700 residential units with spaces starting from 100 Sqm and up to 300 Sqm, as the company offers 3 luxurious types: Chalets, villas, and penthouses.
Blue Blue El Sokhna Chalets' space starts at 100 square meters and goes up to 140 square meters.
Villas's space starts from 250 square meters and goes up to 300 square meters.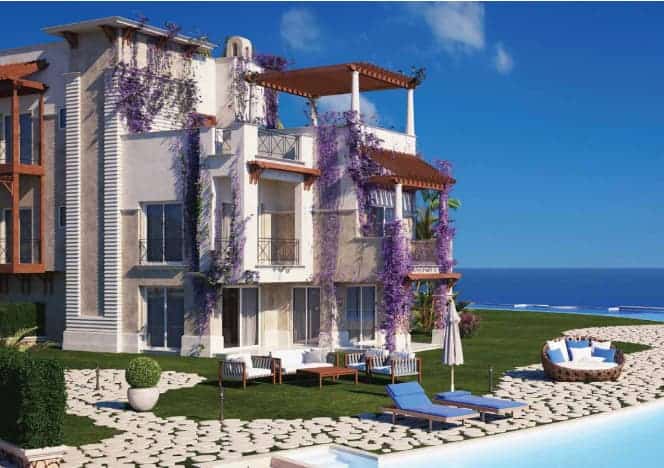 Prominent features & Services in Blue Blue Ain Sokhna
Blue Bay Ain Sokhna offers endless features that serve all kinds of needs, such as medical services, education, and entertainment.
Learn about the most important features of the Blue Resort El Sokhna through the following points:
All units in Blue Blue El Sokhna Resort are surrounded by gardens full of trees and flowers that offer comfort and calmness.
Green land spaces take up a high percentage of the land, about 80%.
Every model and phase in the project has a unique, special design that expresses a different story of a prestigious life and how it should be.
The developer of Blue Blue has provided a jogging river as a way to move inside the resort by boat, as a new and different activity.
You can also move inside the resort by bicycle on the dedicated paths developed by MG Holding, far away from cars.
Blue Blue features include artificial lakes, wonderful waterfalls, and fountains.
Blue Bay Sokhna has more than 14 swimming pools divided into two suitable options, one for kids and the other for adults, and they are provided with different designs and depths.
Chalets Prices in Blue Blue Sokhna & its Payment System
The prices in Blue Blue El Sokhna start from 1,500,000 EGP for the chalets, and for villas, the price ranges from 4,100,000 EGP up to 7,000,000 EGP.
The Blue Blue provides these units with different spaces, and the price depends on the space that you choose.
Chalets with 100-meter squares start from 1,500,000 EGP.
Chalets with a garden cost 1,800,000 EGP.
The price of chalets with 150-meter squares starts from 1,750,000 EGP.
The penthouse prices range from 1,800,000 EGP up to 2,500,000 EGP.
The payment method in Blue Blue
Having the perfect deal is a real contract with MG Holding for Developments. Get to know the payment plan that the developer was keen to extend the payment period to make it much easier for its customers and investors.
The payment method in Blue Blue Sokhna is a 10% down payment and instalments for over 9 years.
Own your chalet, villa, or penthouse with a payment method that extends over 9 years and be a part of this huge and amazing project that developed at the heart of El Ain, El Sokhna, with a direct view of the Red Sea Coast.
The Developer of Blue Blue Resort| MG Holding for Development
The developer of Blue Blue Resort in Ain Sokhna has started its journey with a huge amount of skill and education. The company was established in 1998 with the vision of making dreams come true in small steps.
The steps that MG Holding takes are to make sure to deliver the units on time, provide all the ways to make life comfortable for all the developer customers, and last of all, deal with the finest engineers to deliver a design with no flaws.
Since its foundation, it launched several remarkable projects all over Egypt, such as Lavida, Premium Business, Promark, etc.
Other Projects in Ain Sokhna
Faq about Blue Blue
What is the down payment required in Blue Blue?
what is the available units in Blue Blue?
Chalets- villas- duplexes,