Marseilia Beach 4 offers charming green nature with the combination of the blue sea as a central unit view, located in a vital area besides being an integrated community that holds all amenities to serve needs with the highest quality.
Marseilia Beach 4 North Coast holds different types of units that all feature amazing detailed modern designs, plus surrounding the units with greeny landscapes that offer a comfy atmosphere.
The available units in Marseilia  Village are Chalet, Twin Houses, and Villas, and what makes them the best options to take is that it is developed by the prominent real estate developer; Marseilia Groups.
If beauty and nature are your best friends, then you have to own your unit in Marseilia Beach 4.
Marseilia Beach 4 Location
Marseilia Beach 4 is privileged by its prime location at Kilo 124 of the Alexandria-Marouh coastal road because of its proximity to vital places like two of the main airports (Al Alamein Airport and Borg El Arab Airport) and the lavishness of the resort neighborhood.
The Nearby Places from Marseilia 4
Marseilia 4 is located 2 kilometers away from both Marassi Egypt Village and Hacienda Bay Village.
Minutes to be in Marsa Matrouh, Alexandria, and Al Alamein City.
About 124.5 km from Alexandria city.
It just takes 24 kilometers to Alamein City.
Cairo is 60 minutes by car from Marseilia 4 Sahel.
Al Alamein Airport and Borg El Arab Airport are near the resort within minutes.
Discover the Location of Hacienda Bay
The Space and Design of Marseilia Beach 4 North Coast
Marseilia Beach 4, based at 140 Feddan, features a private beach that extends over 650 square meters, which gives the ability to make all units look directly at the sea, even if you choose Chalets, Twin Houses, or even Villas.
According to resort space, there are also fewer condominiums with 600 square meters, and if we talk about the services inside Marselia Beach 4, you will be amazed by the fully satisfied needs that are fulfilled to the highest quality.
The Marseilia Beach North Coast is designated as a combination of modern and luxury, with the white and grey colors giving a look of contemporary design.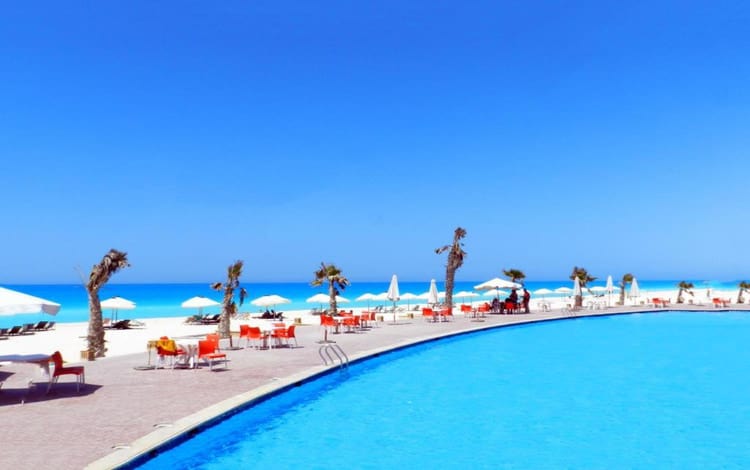 The units types and space in Marseilia 4
The villas in Marseilia 4 El Sahel are built on 85% of the residential space, and the 15% for the Chalets starts at 88 square meters for a one-bedroom. More details will be provided when you contact our team.
The space of chalets for sale in Marseilia 4 on the north coast starts from 88 square meters; it contains 1 Bedroom.
Twin Houses for sale in Marseilia Beach are provided in three spaces: 185 square meters, 210 square meters, and 290 square meters.
Villas' unit space starts from 410 square meters up to 516 square meters.
The top Features of Marseilia Beach on the North Coast
Marseilia Beach on the North Coast will amaze you with all the features and amenities it holds. It has every need available in one integrated and outstanding resort. Besides the payment plan and the unit prices, you will be surprised by the resort's services and facilities.
The resort is located in a vital area at Kilo 124 of the Alexandria-Marouh coastal road.
Marselia Beach 4 offers three unit types to choose from freely.
The units have a direct view of the sea, plus they are surrounded by trees and green landscapes.
security and guards all over Marseilia Beach 4.
The shopping center holds many different stores to meet all the resident's needs in one place.
The developer has implemented a mosque in a massive space so it can hold a large number of prayers.
Marseilia 4 Sahel has a large administrative building.
There are many swimming pools that suit all ages, and there are ones dedicated to women.
dedicated area for kids to play safely all day with fun games and activities.
Garages with the ability to hold a large number of residents' cars
Marselia Beach 4 in Sidi Abdelrhman contains Crystal lagoons, Green landscapes, and other aesthetic views.
The payment plan in Marseilia Beach 4
The easiest and most flexible payment plan was released by Marseilia Group with just a 10% deposit. Enjoy the lavishness and tranquillity in Marseilia Beach 4 by installing the unit over a long period of time without waiting for the unit price to be finalized with you.
a 10% Downpayment and the Installment over 6 years.
Your unit will be delivered with full Super Lux finishes by 2021 and it is the latest phase of delivery.
Be the first to know more about Marseilia Beach 4 Sidi Abdelrhman
The unit prices in Marseilia Beach 4 Sidi Abdelrhman
The reasonable prices will be found just in Marseilia Projects, as the developer is always keen to make it easier in the payment step, not just by offering a flexible payment plan but also by offering catchy prices.
The chalets units in Marseilia Beach Sidi Abdelrhman start from 1,500,000 EGP.
About Marseilia Group
Marseilia Group, the owner of Marseilia Beach North Coast, holds many years of experience that extend over 21 years of achievements. Being an essential part of the developer's greatest projects will add a lot: a prestigious lifestyle, accessibility for all needs, and investment for the future.
Marseilia Group's Previous Projects
Gloden Yard Administrative Capital.
Blue Bay Asia Elsokhna.
Bluebay Jory.
Cascadia North Coast resort..
Marseilia Beach 1, 2, and 3.
Hayat Marseilia Resort
The Related FAQ about Marseilia Beach 4
Where <em>Marseilia </em>Beach 4 located
Located on kilo 124 of Alexandria - Matrouh coastal road.
What is the Payment Plan in <em>Marseilia </em>Beach 4
10% Down payment and the instalment is over 6 years