Al Burouj resembles a new sophisticated world of classy residential spaces immersed in well-delivered facilities in one of the most strategic areas in New Cairo near HSC in Shorouk.
If you need to enhance the lifestyle of your family by getting a wide group of customized services, driven by combined expertise in the Egyptian and Dubai real estate market, Al Burouj is your exact match. 
Alburouj Compound Location
Al burouj Compound is located on Cairo-Ismalia road which gives you accessibility to the main gateways in Cairo: the Regional Ring Road, 3rd Axis, and Geneva Road. 
The proximity between Al Burouj and The New Capital city with a close distance of 10 minutes distinguishes the compound location giving a genuine advantage for residents.
Therefore,  Alburouj Compound has become the top choice for many buyers because of its closeness to different facilities in Egypt:
The distance between the International Cairo airport and al burouj City is 15 minutes.

Only 20 minutes between New Cairo and Al Borouj city.
El Borouj Compound Space 
Choosing the compound space was one of the main critical decisions made by the company. 
With a total cost of 4.47 Billion, El Borouj Compound was developed on a supermassive space of 1200 Feddan through which the company, CGP, meant to create premium living opportunities for a large number of its customers with still keeping the balance between the eye-pleasant views and the residential part.
For this reason, CGP catered to around 83% of Al Brouj space for developing green spaces and providing different types of facilities in one of the most integrated lands in Al Mostakbal City.
While the remaining part, which represents 17% of the total compound space, is a residential-based area in which some of the most significant facilities are set across the compound.
Check detailed info about Residential Units in Badya Palm Hills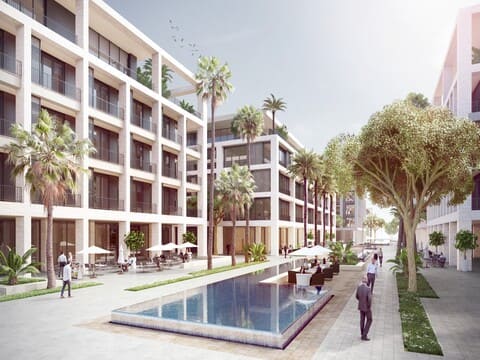 The division of Al Burouj: A Community within a community 
CGP Company proved brilliance in designing Al Burouj in super prestigious communities with a peculiar exquisite print for each. In which residents are privileged to experience sophistication and distinction.
The total number of residential parts in Al Burouj is 16 communities, which makes it highly competent for a luxurious lifestyle where all the amenities are provided with excellence. 
If you are one of those who are searching for opulence, you will find yourself in one of the splendid phases of El Borouj Compound.
1- Villa Park 
Villa Park shall be the first top-highlighted catered space for high-class villas in Al Burouj. However, they are privileged to choose either to reside with a full overview of Orchard Park, one of the largest, or, to live near the club in the club side residence.  However, both options share the same high-class features.
Types of residential units:
Villa Type (A): 339 m².
Villa Type (B): 433 m².
2- Jana 
If you are looking for premier options for Standalone villas, Jana should be on your top list. Similar to Villa Park, Jana residents enjoy a partial or full overview of Orchard Park where serenity is the central theme.
One-Storey Villa: 210 m².
Type F1: 205 m².
3- Al Biat in Al Burouj
Al Bait design resembles a flawless immersion between services integration and breathtaking views where superb quality is provided with excellence. Al Bait al burouj Compound promises a top-flight class of finishing home for its customers in which they can enjoy well-utilized spaces and different housing options.
Types of units: 
One Storey Villa: The gross space is 470 m²; 190 m² is dedicated to a basement.
VO3: A 800-meters unit with a perfect division as follows: 205m² for a roof, 200m² for the ground floor, 205m² for the first floor, and 190 m² for the basement.
4- Falak
Al Falak space is the second choice for high-quality housing options of duplexes; it introduces a new level of personalization as it's precisely designed to enrich you with an experience where all the details ideally match your own needs and tastes.
The ability to get quick access to the main gateways of the compound, in addition to endless entertaining and essential spaces is one of the top benefits provided in Falak Al Brouj.
Garden Duplex: The First type is designed within a space of 267 m². 59 m is dedicated to the terrace, 73 m for the second floor, and 82 m for the third floor.
5- Fajr 
A gated parcel with access to unlimited facilities and amenities in Alburouj Compound. Fajr provides you with an opportunity to enjoy perfect harmony between the lush greenery areas where you can experience tranquillity to the complete and access to the prominent corners and spaces in Al Brouj. 
Apartment (2H):

132 m².

Apartment 2K:

151 m²

3D Units:

342 m²
6- Bedour 
In Bedour, residents are privileged with the same villas' features but in town spaces with exceptional views of the non-stopping marvellous landscapes of Alburouj Compound. The townhomes in Badour are designed within an average of either three or four bedrooms; they are perfectly designed to take your experience where comfort and luxury are the main themes.
Three-bedroom units:

195 m².

Four-bedroom units:

220 m².
7- Clubside residence in Al Burouj
One of the top spaces that received a great number of inquiries at Al Brouj because of its nearside to the club where an endless number of facilities are supported professionally.
The Residences are exquisitely designed in alignment with the modern architectural techniques that grant you the most practical solutions matching the top-flight level of lifestyle that you are looking for; sleek glass facades can be noticed as a main element in the residential units.
Apartment type (2A):

141 m².

Type 3+A:

237 m².

Type 2+A:

199 m².
Why al burouj Compound New Cairo is worth your attention?
Alburouj Compound offers a high level of competency that is meant to facilitate the everyday tasks of residents with significant consideration to people's different demands. 
1- Smart Village
The launch of a one-of-a-kind business hub in the heart of New Cairo represents seamless working opportunities for residents where they can get the job of their dreams within the compound's parcel.
Most importantly, the smart village is perfectly designed with catered features that appeal to both small businesses and large firms, providing multiple growth possibilities and features to enlarge their businesses.
2- World-class sporting club
The Sports complex provided in Alburouj is meant to up-level the residents' experience to high levels of luxury with a fully-sufficient complex where members can enjoy all types of sports and get perfect supervision under well-experienced coaches.
3- CADMUS International Schools 
Capital Group Properties Company is committed to creating a fully-integrated community where all members find their customized and most needed service; education can be highlighted as the cutting-edge feature in al burouj Compound Cairo.
El Borouj Compound empowers its residents with CAMDUS International schools based on a modern curriculum and hands-on experience models through which all students of different ages can strengthen their academic knowledge on a practical level.
Types of residential units in El Borouj Compound
Across a 2000-Feddan Community, around 29,000 residential units were launched, occupying 17% of the total compound space. 
Each residential phase is distinguished by its unique housing type that is provided in different spaces; check the most common spaces.
The space of apartments starts from 90 Sqm to 190 Sqm.

The space of townhouse starts from 165 Sqm to 245 Sqm.

The space of the duplex is 176 Sqm.
Top Benefits in Al Burouj Compound 
Through successful cooperation with the top experienced companies in all the related firms, Capital Group Properties Company managed to fill the gap between the creation of the artistic views in the compound and delivering the most needed services.
Whatever your age is, you will find an activity to do for ceaseless entertainment in Al Borouj.
A huge commercial mall where you can get all your shopping picks from local and global stores.

El Borouj Compound is completely secured with a smart security system of modern supervillains and guards.

Albourouj provides different kids' areas across the compound with the best entertainment and security levels.

A medical centre that offers an experienced team in all medical professions is all that you need.

A cultural hub is considered one of the most significant added values to the compound where residents can enrich their knowledge through different activities.

Venues for daily rent. 

al burouj dedicated a large space, v for producing 100% organic plants 

Paved tracks for cycling.

The compound is renowned for its lush greenery parks and landscapes.

Food restaurants and cafes that serve eastern and western cuisines.

Private and shared garages for owners in Al Burouj. 
Payment system and price list in al burouj
Besides the outstanding services and customised housing options provided in Albourouj, Capital properties Group was keen to offer competitive prices for its super-luxe residential units in El Borouj Compound.
10% down payment is required as a down payment; it can be divided equally two times. The remaining cost is paid over ten years.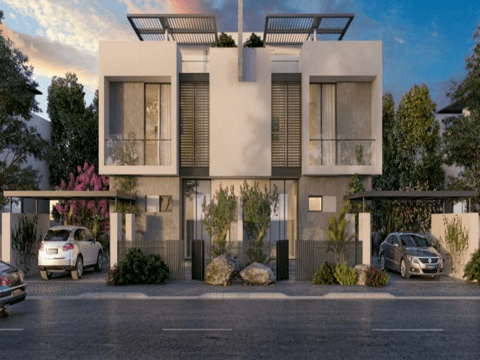 The Developer of Alburouj Compound
Throughout 15 years of expertise, Capital Group Properties, a sister company for a Dubai-based company called Al-Ain Properties, has managed to impact the real estate industry in Egypt with reinvented solutions and contemporary lavish designs.
Alburouj New Cairo is considered the first frontier residential project of CPG in Egypt that received huge attention from property buyers.
However, Capital Properties Group has been expanding in different growing sectors, such as hospitality, education and capital markets, which led to its footprint in the real estate industry in the Egyptian Market. 
It's worth mentioning that Al Ain Properties, the mother company, excelled in the real estate market with its full capacity to produce deluxe residential and hotel-based products.
CGP Portfolio
One Plus street in London.

Compound Plaza in Montenegro

Al-Ain Borj in Abu Dhabi 
Other Projects in New Cairo