Tawny Hyde Park Compound is a unique representation of the urban town lifestyle intertwined with Egyptian culture in terms of its classism and authenticity.
Tawny Compound is developed by Hyde Park Company in October City with its unique signature of producing a state-of-art community in which the smallest detail is planned to appeal to all types of residents, providing them with the luxurious and comfy lifestyle they deserve.
Tawny Hyde Park October, 31-Feddan land, comprises all the possibilities that residents need for the perfect home, which include awe-inspiring landscapes, integrated and multi-faceted spaces,  a variety of housing options, and last but not least, a prime location.
This is your time to experience luxury in Tawny 6 October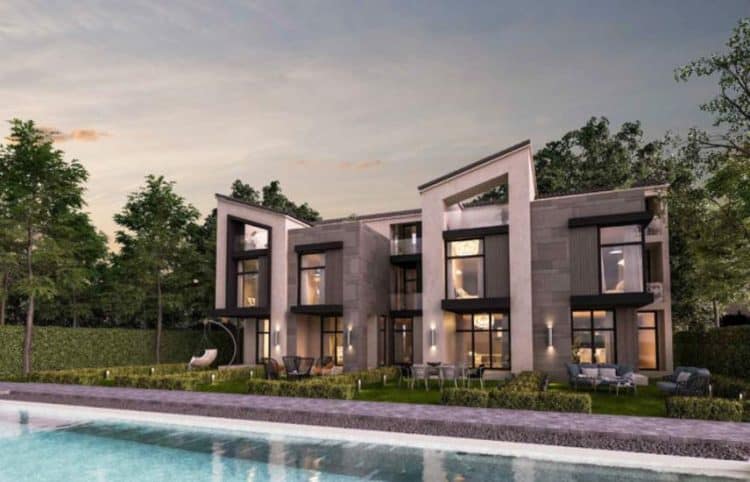 Tawny Hyde Park Location
Tawny Hyde Park Compound features a strategic location that overlooks Al Gezira Sporting Club, one of the prominent spots in Giza. Choosing such a vital location has contributed to the facilitation of everyday commuting for residents because of the compound's proximity to the 26th of July Corridor.
Yet, Tawny Hyde Park's location showcases a distinguished level of vitality as the compound is located near a group of schools, universities, shopping centres, and business districts; resembling a perfect opportunity for new couples and parents.
Check the nearby vicinities from Tawny Compound:
Tawny Hyde Park Compound is 20 minutes away from the Egyptian museum.
Tawny Hyde Park is 15 minutes away from Dandy Mall.
Arab mall is 3 minutes from Tawny Compound
It's three minutes from Al-Alson School.
The compound is situated near Cairo-Alexandria Desert road and Oasis road.
The land space & architectural design of Tawny Hyde Park Compound
Hyde Park Developments selected 31-Feddan land to construct one of its mega projects in October City "Tawny Compound", where residents are privileged to enjoy a top-flight level of luxurious and essential services.
Hyde Park Company has specified a huge space at Tawny Hyde Park 6 October to design awe-inspiring landscapes to provide residents with a one-of-a-kind housing experience in which the view is driven by nature.
While the rest of the compound is designed by a ground of expert architects whose innovative efforts are clyster clear in Hyde Park Company projects.
The interior designs of tawny's residential units stand as a competitive advantage for residents, driven from the shades of nature to vibe a new revival the inner paints were outlined.
A Glimpse of modernness is blended with shadows of classism in Tawny Compound to introduce an innovative design that offers relaxation and contentment.
Check the design of Joulz Compound 
Types of residential units in Tawny Hyde Park Compound
Both the residential and administrative spaces represent around only 20% of the Tawny Compound's total space, 10% for each type.
Hyde Park Company distinguished its projects with a unique variety of well-designed villas, the compound includes an approximate number of 216 villas.
The division of units in Tawny Hyde Park October came as follows: 66 units of twin houses, 90 units of townhouses, and 40 units of quadruplets villas, the remaining are a combination of different unique types.
What are the available residential units in Tawny Compound?
The available types are standalone villas, twin houses, townhouses (Corner type), townhouses (Mid type), and Quad villas.
The space of standalone villas starts from 288 m2.
The Twin house space starts from 280 M2.
The space of the townhouse corner starts from 260 m2.
The space of townhouse Mid starts from 246 m2.
Four-side villas are designed with an average space of 240 m2 to above.
Choose the perfect unit for you now!
Top features & services in Tawny Hyde Park October
If you are looking for one of the top high-class communities in Egypt, West of Cairo, for your family where all their needs are delivered with a high level of proficiency, Tawny Hyde Park October Compound shall be your first choice.
Check the available services in Tawny Hyde Park 6 October:
Tawny Hyde Park Compound offers a well-developed Sports hub in which residents have access to different types of sports.
Jogging tracks were designed for safer morning and night walks due to their remoteness from the communal transportation lanes.
In addition to the private garages attached to the residential units, the compound offers many spots for shared garages.
Tawny Hyde Park 6 October is categorized with an intensive level of security through a security team and cameras.
The medical centre is the first feature that distinguishes Tawny Compound as residents are capable of getting their cures and medicines in emergencies without stepping out of Tawny.
The Landscape in Tawny is a true manifestation of how the simplicity of nature is all that people need for a relaxed and calm day.
Tawny 6 October Compound includes a group of cafes and restaurants that provide 5-star services.
Inside Tawny Hyde Park, each family member can find a suitable place where they can share their interests with others.
Tawny Hyde Park Prices & Payment systems
Hyde Park Company announced competitive prices for both the residential and commercial units in Tawny Compound to become one of the most selling projects in October City.
Tawny Hyde Park Compound offers large villas for sale at unbeatable prices that start from 6.820.000 Eg.
Contact us for more detailed information
The instalment period in Tawny Hyde Park Compound
The prices of Tawny Compound aren't the only advantage, as the company facilitated the whole payment system for its customers by lasting the instalment period of over 8 years.
To purchase a unit in Tawny Compound, an amount of 10% down payment is required to be paid periodically as follows: 5% while signing the contract, and the other half, which represents 5%, is paid after three months.
Book your unit now!
The developer of Tawny Hyde Park Compound
Hyde Park Development is the developer of the booming project " Tawny Hyde Park" in 6 October City", one of the dominating companies in the real estate market since 2007.
During Hyde park's long exquisite existence in the market, the company proved high commitment to meeting customers' expectations through the main 6 criteria ( Innovation-quality-excellence- customer support-integrity)
Besides the company's commitment to its customers, Hyde Park also devoted its effort to provide a high value for its main investors: Housing and Development Bank (HDB), Egyptian Arab Land Bank (EBA), the Holding Company for Investment & Development, the New Urban Communities Authority (NUCA), and El-Tameer for Investment & Real Estate Development S.A.E.
The Company is renowned for a long record of successful projects all over Egypt that are represented in ( Hyde Park New Cairo, Hydeout, Seashore, Business district, and Garden Lakes).
Other projects in October City
Faq related to Tawny Hyde Park 6 October
Who is the developer of Tawny Hyde Park 6 October?
Where is Tawny Hyde Park Compound is located?
October City, in front of Al Gezira Sporting Club
What are the types of units in Tawny Hyde Park 6 October?
Townhomes- villas- twin houses
How can i contact the consulting team in Tawny hyde park Compound?
Call the following number: 01101112515