90 Avenue was launched by Tabarak Holding Company in the heart of the fifth settlement, which in a short period, has turned out to be one of the main choices for buyers in Egypt when it comes to a luxurious housing experience.
Tabarak Company, one of the real estate industry leaders since 1979, is committed to delivering customized options in 90 Avenue Compound that appeal to each family and their distinctive needs.
If you are looking for a prime location, opulent lifestyle, and perfect fulfilment of services, 90 Avenue Shall be your first choice.
Meet Our Consulting Team For More Details
The location of 90 Avenue Compound
The Holding Tabrek Company selected one of the most livable areas in the fifth settlement to build its giant project, as 90 Avenue is located on N' Tessen Street, the wise selection of Avenue 90 location enriched customers with a frontal view of the American University (Auc).
If you are one of those who are willing to uplevel his housing experience in 90 Avenue New Cairo, so it's necessary to know all the nearby places from the compound.
Future University is one of the remarkable places that is located near the compound
90 Avenue is located near Cairo Festival City Mall
The distance between 90 Avenue and Ring Road is 9 km.
7 KM is the distance between Suez Ring Road and 90 Avenue.
Avenue 90 location is 10 km away from Ain Sokhna Road.
 90 Avenue is 9.5 km away from Cairo Ring Road.
The Master Plan of 90 Avenue Compound
The design included in the master plan of 90 Avenue Compound is considered one of the most brilliant schemes that offer an opulent fully-integrated lifestyle for its residents.
The master plan includes four main zones with a peculiar mission and design for each one, Family zone, Serenity Zone, Vibes Zone, and 90 Mall Zone.
1-Vibes Zone |A New Realm of Luxury in 90 Avenue
Tabarak thrives on spreading comfort and happiness in all its projects; thus, Vibe Zone is the first hangout area launched in its master plan.
The Vibes Zone in 90 Avenue includes activities that suit both children and elderly members, in addition to building a clubhouse where the zone residents can strengthen their bonds.
2-Family Zone
Because the family bond is the strongest tie ever, 90 Avenue provides a family-based zone with a place or activity for each family member. Inside Family Zone, one can find an amusing Kid's area, amphitheatre, and swimming pool catered by a restaurant.
3-The Serenity Zone in 90 Avenue
Far away from the city's crowdedness and the daily adults' pressure, the Serenity Zone in 90 Avenue is designated especially to make you experience the simplicity of the natural breathtaking views. Water walkways, garden tracks, and lakes are the main components of the serenity zone.
4- The 90 Mall Zone
Residents have access to the Mall 90, 60,000 meters- centre, through a gate on the main road. 90 Mall zone highly supports the commercial needs of residents by hosting a group of the best contemporary stores and brands in different niches.
The Architectural Design of 90 Avenue
90 Avenue space, 50-Feddan land, was perfectly utilized and designed to give a space for all the needed services in the compound.
Tabarak Company managed to deliver real value in all its projects by analyzing the customers' main demands to be able to deliver them with excellence.
To uplevel customers' luxury experience, the smart master plan of the compound allocates around 18% of the total compound space to provide greenery space.
Brilliantly, for a super utilization of the compound space, 90 Avenue launched around 65 residential blocks. Each five-floor block contains 4 residential apartments and two queen sets.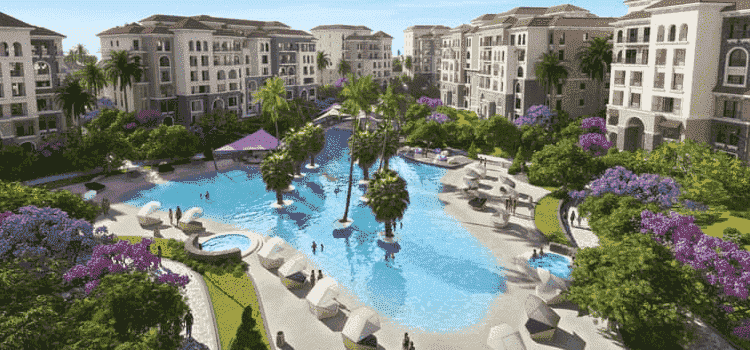 Types of Residential Units in 90 Avenue
90 Avenue offers its customers multiple housing options through which the customer can experience uniqueness due to the inner design and the unit space.
The available residential units are Duplex- Apartments- Studios- Villas- Queen sets. Note that the space of a Duplex starts from 157 and up to 315 SQM.
Meet Our Consulting Team To Find the Perfect Home For You
Top 19 Services & Benefits in 90 Avenue
The top services and facilities provided by Tabarak Company elaborate on why 90 Avenue is worth property buyers' attention.
If 90 Avenue Compound is on your top list for a smart home in New Cairo, then knowing 90 Avenue's services in detail will help you make your decision.
90 Avenue supports Zero Polluted environment by relying on solar energy as an alternative for lighting the compound.
To add an artistic taste to the compound, Tabark was keen to build multiple decorative fountains all over the compound, especially the residential spaces.
Tabarak Company offers different venues for holding events and celebrations.
Constant maintenance services for all the units in the compound.
The availability of a Private Garage is one of the main advantages.
The compound is designed with tracks that enable residents to practice their favourite fitness sports ( promenading and cycling).
90 Avenue Fifth Settlement is designed with eye-pleasant green spaces on a sprawling compound to provide a more sense of elegance.
The Compound offers its customers one of the largest malls in the 5th settlement that is built on 5,000 Meters.
90 Avenue security is considered one of the attraction factors for buyers as the compound is 24\7 secured through safeguards and a smart camera system.
The Compound enacts sports enthusiasts by building customized swimming pools for the Olympics.
90 Avenue promises its customers a relaxing life through a highly-advanced wellness hub, Spa, and Jacuzzi.
Residents are privileged to enjoy multiple different cuisines provided by a group of top-known restaurants and cafes.
The Smart camera system is inserted and operated with CCTV technology all over the compound to provide safety day and night.
There're hypermarkets and stores set across the compound.
Many restaurants and cafes where residents can enjoy mouth-watering dishes.
90 Avenue Compound is featured with super entertaining Play areas for kids.
 Prices and Payment Systems of 90 Avenue
90 Avenue prices are set to become one of the top advantages provided in the compound that doesn't only guarantee ease of payment, but also quality.
The price of units in 90 Avenue starts from 3,980,000
The Instalment System of 90 Avenue Compound
Tabarak Company tends to facilitate the payment process for its customers to add real value, especially for those who are looking for investment opportunities or unique residential spaces in the fifth settlement.
With no interest, the buyer can pay only 5% of the total unit cost as a prepayment and pay the remaining over 7 years.
Contact us Now to get the perfect home for your family
Tabarak Company: The developer of 90 Avenue
Tabarak Company is one of the forerunner real estate companies that has been in the market for 38 years, proving its authenticity with both commercial and residential projects.
Tabarak Group was introduced to the market for the first time in Egypt in 1979 by AL Nahda Company for contracting. Tabrak was perceived as one of the market leaders because of its expansion in different sectors, including tourism development, investment, exporting, manufacturing, and real estate.
Tabarak thrives on delivering genuine quality, customer satisfaction, and commitment to its customers in all its projects as a way of credibility for its core values.
Tabarak portfolio in real estate:
Capital East
A'aaly Clinics
Maadi Heights
Jannat
Bayti
A'aaly Al-Riyadh, KSA.
Tabarak city.
Other Projects in New Cairo