Telal East New Cairo is a new massive and prestigious project launched recently by Roya Development in the Heart of Fifth settlement, with high living standards and a picturesque design that is second to none.
Roya Group aims to exceed customers' expectations for a luxurious lifestyle, by setting a definition for luxury to become essential and basic creations.
Accordingly, Telal East in New Cairo features an exceptional integrated housing experience by offering a variety of recreational and essential services of premium quality. So residents can find a health hub, swimming pools, fun zones, promenading, and cycling tracks, and commercial areas, within the gate of the compound.
So if you are looking for a chance that guarantees a promising future for your family, Telal East New Cairo is your perfect choice.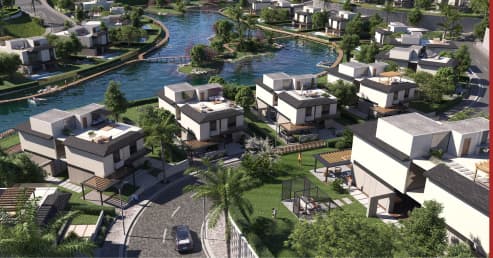 The location of Telal East
Telal East Compound by Roya Development is located in one of the top luxurious spots in New Cairo, Fifth Settlement.
The company gave much consideration to how a perfect location is considered the first trait that buyers look for, a prime location where they feel belonged and enjoy the ease of transportation.
Telal East New Cairo features 4 big gates. the first two gates are situated on the ring road, and the second two are partially situated in front of Mountain View.
Check the nearby places from Telal Compound in the Fifth Settlement
2 minutes from Suez Road
10 from the American University in New Cairo
15 minutes from the International Cairo Airport
The Land Space & Design of Telal East in New Cairo
Telal East in New Cairo Compound is developed over a huge land space of 184 Feddan that allows the company to introduce a balance between integration and landscapes.
Rooya Development celebrates the launch of a healthy project in which verdant plays a prominent design feature to help people indulge with all senses in a tranquil and mesmerizing greenery lifestyle, as landscapes occupy around 80% of the project's land area.
In addition to multiple crystal lagoons, which have become a luxurious edition in residential projects nowadays, that adds a deluxe seamless atmosphere.
The Architectural design of Telal East New Cairo
Roya Development introduces a one-of-a-kind architectural design that speaks for luxury, elegance, and comfort. By contracting with Egypt's well-positioned design companies, the exterior design of villas and townhouses in Telal East New Cairo is expected to simulate living standards in Europe.
Moreover, the construction of Telal East Compound in New Cairo is set in the alignment of high hills designed to provide residents with a picturesque panoramic view. so the compound includes around 7 hills, which means 7 gates.
To support people's access to the served areas, the company decided to dedicate several commercial areas along the residential districts for perfect fulfillment.
Types of residential units in Telala East
Telala East New Cairo offers a group of apartments and duplexes in different spaces and unique internal designs.
The space of Signature Villa in Telala New Cairo Compound is 575 Sqm.
The space of Villa Module 2 is 492 Sqm.
The space of villa module 3 is 362 Sqm
The space of the stone villa is 295 Sqm.
the space of the townhouse is 275 Sqm.
the space of Sky Villa is 310 Sqm.
The Space of Garden Villa is 233 Sqm.
All units feature a mesmerizing view of landscapes or water features. For more details and the division of each unit, kindly contact our team.
Top Features & Services in Telal East Roya
Telal East New Cairo by Roya is designed as a completely integrated city in which residents don't have to get out of the compound to get their needs.
Roya Development was keen to build a cozy atmosphere for each family member by providing distinguished services for all ages and different interests and essential facilities.
1- Sporing & Physical Activities 
Roya Company seeks to create a healthy environment where people can practice a preferred activity that keeps circulating their blood and enhance their general health, and of course, help them to stay positive. Therefore, the company offers the most common and required activists, with modern equipment and experienced coahes.
Fitness hub
Parkour Hub
Yoga Space
Cycling tracks
Promenading bridges
2- Medical Services
Being cured or having the right medication is one of the most required and essential services to be included in any housing area, therefore, Telal East New Cairo includes the following
Medical Clinics & well-specialized doctors
Pharmacy that offers medicines and osmotic products
3- Entertainment and social activities 
Roya Company for Development aims to luxuriate the housing experience provided in Telal East Roya in New Cairo by providing several communities where residents can strengthen their relationships and have some fun and quality times with their families.
The available services and places in the compound are:
Community hub
Outdoor Cinema
Kids area
4- F&B and Retail stores
Multi-faceted spaces are an essential component of the project master plan to enable residents to get their needs and purchases. in addition to, cafes and restaurants that are meant to add more fun.
Retails stores
Cafes
Mini markets
5- Luxurious Design Characteristics 
Telal East New Cairo Compound by Roya Development is distinguished with smart and innovative features that is meant to ease residents' lifestyle and upgrade their experience.
Neighborhood access control
Administrative office for electricity and water billing payments.
Unique different units to meet customers' budgets and extend the installment period over 8 years.
Telal East New Cairo Prices & Payment System
Roya Development was keen to offer its customers an unmissable opportunity for both residence and investment with competitive prices.
 The price of villas starts from 6.5 million Egp.
The price of a townhouse starts from 8.1 million Egp.
For more pricing details, contact us 
The installment plans in Telal East
Payment facilitation is one of the top features that people look for when looking for luxury and investment means, therefore, the company decided to ease the process by extending the installment period over 8 years.
Check the system of down payment and signing contracts
 an amount of 5% is paid as a deposit and to sign the contracts
after three months, another 5% shall be paid.
The developer of Telal East Compound New Cario
Telal East Compound in New Cairo is a new project launched in 2023 by Roya Development; a pioneering real estate company in the Egyptian market.
Since its foundation in 1997 by Eng/ Hisham Shoukry, the company has been developing its teams to deliver one-of-a-kind residential and coastal projects that offer the ultimate levels of luxury and comfort
Faq about Telal East
What is the available units in Telal East?
what is the installment period of Telal East ?