Are you willing to boost your housing experience by taking advantage of a top-notch community where all types of luxuries and essential facilities are served exquisitely?
Hyde Park New Cairo is one of the flagship projects that takes you on a one-of-a-kind journey where the recreational, commercial and residential spaces are the main elements in your neighborhood.
This is your full guide to Hyde Park New Cairo's main communities, types of residential units, and uppermost facilities.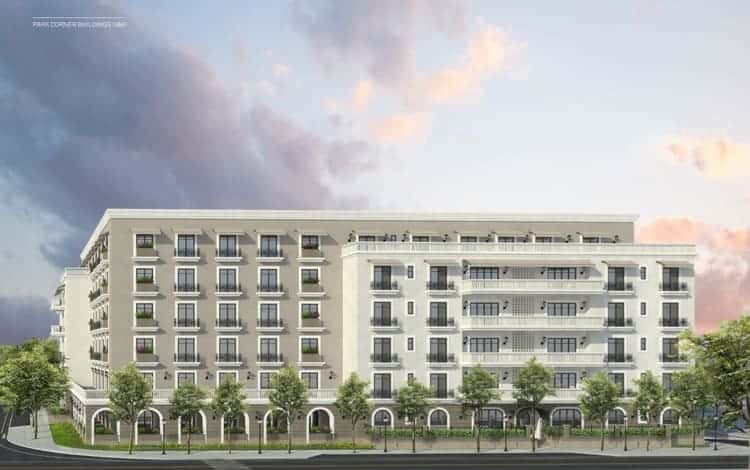 Hyde Park New Cairo Location
Hyde Park New Cairo received considerable attention because of its strategic location on the southern of 90th Street where a high-class neighbourhood and present-day building.
Purchasing in Hyde Park New Cairo is considered a great plus because of its accessible spot to the main roads; the middle ring road is effortlessly accessed through Hyde Park main Gates.
Check now all the nearby places to Hyde Park New Cairo
Hyde Park New Cairo is located near a group of well-known compounds, such as La Vista city and Zed East compound.
The distance between Hyde Park Cairo and Madinety is 12 km.
15 km is the distance between Shorouk city and Hyde Park New Cario.
Hyde Park Cairo is located in proximity to the international airport with a space of 30 km.
Suez Road is about 15 km from Hyde Park Cairo.
The New defence ministry is around 8 km away from Hyde Park's fifth settlement.
To access the regional ring road, residents need only to drive a distance of 20 km.
Total space of Hyde Park New Cairo
Strategically, the compound was developed on a massive land space of 1500 Feddan to be able to introduce one of the largest communities equipping the compound with all the needed services.
It's worth mentioning that Mountain View collaborated with Egypt's top developers who launched brilliant residential projects as a part of the same compound, which are the square and stone residences.
Hyde Park New Cairo design coops with the modern architectural techniques where the largest part of the compound includes breathtaking views and facilities; only 20% of the total compound is dedicated to the residential section.
Hyde Park New Cairo Design
The collaboration with the Gensler Company, a dominating company in the architectural design field, is the main reason behind the outstanding design of Hyde Park New Cairo.
Hyde Park New Cairo Master Plan divided the residential section into many areas with a peculiar model for each area, including Garden Residences, Garden Ville, Park Corner, and Royal Villas.
Moreover, designing an entertainment-based section, Hyde Out, is one of the top privileges for residents where they can spend quality time with their beloved ones.
Hyde Park New Cairo is renowned for its numerous residential units, including several types, as the compound launched around 20,000 residential units.
As a call for entrepreneurs to boost investment in the Hyde Park compound, the company launched around 3000 commercial units.
Types of residential units in Hyde Park New Cairo
Hyde Park Master Plan includes a wide selection of housing options that meet customers' requirements, including penthouses, villas, townhouses, twin houses, and terrace gardens
However, the space variety of each type of unit enables buyers to pick the unit that appeals to their needs.
Residential units in The Residences
Property buyers can choose between three types of residential units residence phase built on 39,000 Sqm, check the available units in detail through the table:
| | |
| --- | --- |
| | |
| Garden-base Duplex |  Starts with a 200 Sqm |
| Roof-based duplex |  starts from 209 Sqm |
| Apartments | start from 216 Sqm |
The Royal Phase of hyde Park Cairo
The royal phase is designed with 9 types of villas representing another level of luxury. Check the herein table to know the total space of each type of unit and its interior division
| | | | | |
| --- | --- | --- | --- | --- |
| | | | | |
| Villa A1 | 1311 Sqm | 308 Sqm | 599 Sqm | 404 Sqm |
| Villa A2&A3 | 1267 Sqm | 320 Sqm | 471 Sqm | 475 Sqm |
| Villa B1 | 865 Sqm | 212 Sqm | 353 Sqm | 291 Sqm |
| Villa B2 & B3 | 932 Sqm | 262 Sqm | 387 Sqm | 282 Sqm |
| Villa C1 | 696 Sqm | 317 Sqm | 315 Sqm | 54 Sqm (Roof) |
| Villa C2 | 682 Sqm | 315 Sqm | 310 Sqm | 55 Sqm (Roof) |
| Villa C3 | 686 Sqm | 317 Sqm | 312 Sqm | 54 Sqm |
Everything you need to know about Peaksville
What distinguishes peak vile is its proximity to hyde out, the largest entertaining area. Moreover, Peak Ville residents enjoy a perfect view of the central park.
The herein table shows you the total space of each type of unit and its interior division
| | | | | | |
| --- | --- | --- | --- | --- | --- |
| Type of unit | Total Space | Ground floor space | 1st-floor space | Second floor | Roof |
| Standalone Villa | 590 Sqm | 215 Sqm | 170 Sqm | 205 Sqm | 85 Sqm |
| StandAlone Villa G | 316 Sqm | 152 Sqm | 264 Sqm | – | |
| Standalone Villa G1 | 355 Sqm | 152 Sqm | 164 Sqm | – | 39 Sqm |
| Twin House | 285 Sqm | 152 Sqm | 132 Sqm | – | 28 Sqm |
| Townhouses Corner | 266 Sqm | 144 Sqm | 124 Sqm | – | 27 Sqm |
| Town house middle | 253 Sqm | 100 Sqm | 155 Sqm | – | 28 Sqm |
Overview of Hyde Park corner
Hyde Park corner broke the records by selling all its units in just thirty days which inspired the company to start building the second phase.
The total amount of money invested in f Hyde Park corner the second phase was 3 billion Egp was constructed on 235,000 meters of land with around 1000 units.
Garden Vile: Home of luxury
With all the same privileges as Hyde Park, Garden Vile offers residents a high splendid lifestyle where they can enjoy the natural eye-pleasant views and the modern architectural designs.
| | | | | | |
| --- | --- | --- | --- | --- | --- |
| Type of unit | Tota space | Ground Space | 1st floor | Roof | Terrace |
| Town villa | 323 Sqm | 114 Sqm | 122 Sqm | 28 Sqm | 58 Sqm |
| Townhouse corner& Middle | 261 Sqm | 90 Sqm | 95 Sqm | 22 Sqm | 53 Sqm |
Garden residence: 1st choice for a wide selection of housing options
Inside Hyde Park, Garden Residence was launched in 2021 with the main vision of providing all types of flight-level possibilities for residents. The company sold a large portion of its units within a short period.
Note that the herein table shows you the space of each unit and its inner division
| | |
| --- | --- |
| Type of unit  | Space & Division  |
| Garden Villa |  It is provided in different four spaces( 162 Sqm- 177 Sqm- 211 Sqm- 244 Sqm) |
| Twin Villa | 323 Sqm |
| Apartments | This type of unit is provided in multiple spaces starting from 83 Sqm to 191 Sqm. The maximum number of bedrooms is 4. |
| Garden-base apartments: |  One-bedroom unit with a total space of 168 where 86Sqm of its total space is dedicated to the garden. |
| Penthouse | Three different sizes (193 Sqm- 265 Sqm- 268 Sqm) |
| Garden penthouse | Starts from 265 Sqm |
| Town house Corner | Starts from 261 Sqm |
| Garden Terrace | Starts from 252 |
Top 7 facilities in Hyde Park New Cairo
For the fact that Hyde Park New Cairo is a community within a community, the company was keen to ensure integration through numerous facilities that match customers' needs in all fields.
1-Business district
The construction of the Business district is set to enable business owners to take advantage of all the facilities provided starting from the space variety to the partitioning of the district that promise a satisfying work environment.
A total investment of 6 billion was the needed amount to ideally establish a Business district, 117,000 meters of land. It's noteworthy that the business district garage is capacious to hold around 4000 cars.
2-International school
To provide all life possibilities for residents, Hyde Park includes two international schools.
3-Luxrious Hotel
A five-star hotel was constructed to push tourism into the compound, enabling people to spend high-quality time in Hyde Park.
4- The Park
On 600,000 meters, the park was constructed as one of the largest parks in new Cairo where different celebrations took place. The Park is the place where people can recall their nostalgia.
5- Medical centre
Irreplaceable, a highly-equipped medical centre is the first facility that people do concern about when choosing the home of their dream; thus, the company was keen to provide the highest human care levels.
6-Clubhouse
Hyde Park Clubhouse is one of the most remarkable services where people can spend quality time strengthening the bonds within the community. However, it's noteworthy that the clubhouse construction was assigned to Mona Hussain's office for property consultants to bring their expertise to the heart of New Cairo.
6-Sports club
If you are looking for a community where all kinds of sports are highly supported, then, Hyde Park which is constructed on a massive land space of 168,000 meters will perfectly match your needs.
7- Social club
Last, but not least, Hyde Park Master Plan included 4 social clubs around the community; the first one of them was launched in 2019.
Top 5 services in Hyde Park
Hyde Park Development's solid expertise was ideally embodied in its services selection that was meant to facilitate people's lives.
Hyde Park mobile Application
A top-notch application through which residents can get notified of all the compound's updates to facilitate the communication between residents and the company.
Works 360
A new feature added to the community's top services that enable residents to obtain high-end finishing for their units' interior design, which includes finishing and designing for gardens and swimming pools, based on an easy-to-use payment system that lasts for three years with a 1-year guarantee.
Network services
Speedy Internet, strong networks, landlines, and IP TV are considered the outcome of Hyde Park development collaboration with Vodafone in 2020.
Garden Maintenance services
If how your own garden sound is one of your concerns, Hyde Park compound offers care services for gardens.
The payment system in Hyde Park New Cairo
Buyers who show interest in buying a unit in Hyde Park Cairo can choose one of the below-mentioned payment systems.
1st Payment plan requires a 32% down payment, and the remaining cost shall be paid over 6 years. (Immediate purchase)
2nd payment plan requires only a 10% down payment, while the remaining can be paid for 6 years. ( 1-year delivery)
3rd plan allows customers to purchase their units by paying 10% in two stages; the second stage requires paying 5% exactly after three months. In this system, customers can extend their instalment up to 8 years. ( 3-years delivery)
4th system allows customers to pay the cost of their units over 10 years, provided that they have to pay a 10% down payment.
The developer
Hyde Park Company is a joint company established in 2007 with Emirates Damak and the Egyptian housing and development bank as the main shareholders.
All Hyde Park Development's communities share the same scheme of providing a flawless balance between social life, work, and entertainment in a neighbourhood where both a flourishing urban community and natural simplicity.
It's noteworthy that Hyde Park's investment reached 5 billion at the beginning of 2017 which is driven by its accomplishment to sell all of its units during a short period.
By the end of 2020, the company sold more than 3800 residential units in Hyde Park community in the fifth settlement earning sales worth 2.5 billion Egp.