Midtown Sky Compound is meant to redefine the housing experience in Egypt by delivering the highest quality of sophisticated lifestyle where both comfort and luxury are delivered with excellence.
On a huge space of 122 Feddan, Better Home Company, one of the forerunners in the scene since 2003, launched "Midtown Sky New Capital" to represent one of the most integrated compounds in the capital city.
Residents in Midtown Sky are privileged to enjoy wide options in terms of residential units, commercial services, medical services, and entertainment.
So, if you are looking for a top-flight community where all your prerequisites of the high-class lifestyle are perfectly fulfilled, Midtown Sky shall be the first choice came to mind.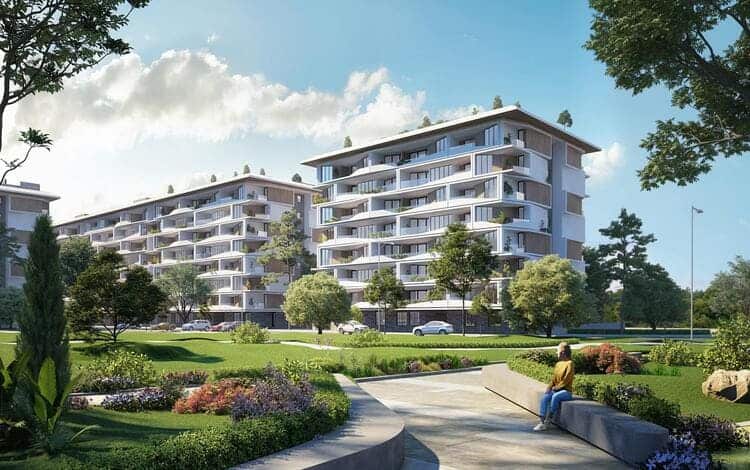 Midtown Sky Compound Location
Midtown Sky is located in the heart of the New Capital City in R7, more specifically in the G3 area.
Better Home Company succeeded in selecting a strategic location for its compound " Midtown Sky" near the main facilities in the capital city, including the Green River and the presidential palace.
Midtown Sky Compound is situated in proximity to Muhammed Bin Zayed, which facilitates transportation inside and outside the city.
If Midtown Sky is one of your best preferences, it's better to know all the nearby places:
Midtown Sky Compound is located 5 minutes from Al Fattah Mosque.
The distance between Midtown Sky and the presidential palace is 10 minutes.
To go to either Heliopolis or Nasr City, you will drive around 20 minutes.
The compound is located near Al Masa Hotel.
The Land space of Midtown Sky New Capital
Midtown Sky Compound New Capital is constructed on 122-Feddan land; a sufficient space to provide all possibilities of a luxurious integrated community.
Similar to the projects of New Development, the larger part of Midtown Sky New Capital, which represents around 82%, is dedicated to designing and building landscapes of green parks and blue waterways around the compound.
Check the available units in Castle Landmark Compound
Types of residential units in Midtown Sky
Better Home Company is committed to providing a variety of residential units in different spaces to meet customers' needs. The available residential units include( Apartments- Twin Villa- Middle Town- Town Corners)
The space of Twin Villa is 350 m2.
Apartments on the typical floor start from 90 m2 up to 120 m2.
The space of apartments on the ground floors starts from 120 m2 to 190 m2.
The space of Middle Town is 350 M2, and a garden of 200 M2 is included.
Town Corner space is 350 M2
Consider that residential units will be delivered semi-finished. The privilege of receiving the units fully finished is available upon request.
The number of commercial units announced in Midtown Sky resembles an excellent investment opportunity for entrepreneurs.
The Architectural Design of Midtown Sky
Better Home was keen to provide exceptional architectural design for its project "Midtown Sky" to simulate the prestigious lifestyle represented in the New Capital. Thus, Midtown Sky is designed with magnificent symmetrical buildings, and solution-based designs, that add a sense of eliteness and practicality.
Midtown sky New Capital resembles a state-of-art in terms of design, as the compound includes captivating landscapes in different spots around the residential and commercial units, where both the blue and green shades are combined in one view.
Check the design of Il Bosco New Capital 
Top services available in Midtown Sky
Better Home Company strives to enrich the lifestyle of its customers by providing high-class communities, a flawless services fulfilment experience, and a prime location.
Therefore, Midtown Sky Compound is expected to be classified as one of the most fully-integrated compounds in New Capital City due to the luxurious and essential services provided in Midtown sky.
A huge commercial centre, Midtown Sky Mall, was established on a huge space to be sufficient for a huge capacity of shoppers.
Midtown Sky New Capital is designed with jogging tracks that enable residents to practise their activity safely far away from the crowd.
Swimming pools for both kids and adults.
Midtown SKy compound in New Capital includes a flawless variety of luxurious restaurants and cafes.
Private garages enable owners to park their cars freely.
A Medical centre provides the best well-being services.
Midtown Sky New Capital provides the highest levels of security through a smart surveillance system.
Swimming pools in different sizes for both adults and kids.
Midtown sky provides different fun zones suitable for both kids and adults.
Check the Services list in Rivan New Capital Compound 
Midtown Sky Prices & Payment Plans
Midtown sky prices are ideally set to by Better Home to compete with the price range provided in the New Capita, which is clyster clear in the high value offered to customers in terms of quality, design, and prime location.
Purchasing a unit in the heart of New Capital where all educational, medical, and commercial facilities around you with competitive prices is an unmissable opportunity for anyone who needs to up-level his lifestyle or to invest in one of the big cities in Egypt that is expected to resemble future of housing in Egypt.
Midtown Sky Payment Plans
Upon customers; requirements, Better Home company expedited the instalment period for 7 years to facilitate the payment process.
Those who are interested in purchasing a residential unit in Midtown Sky can pay a 10% down payment and pay the remaining cost over 6 years.
Surprisingly, the company announced a discount of 10% for customers who pay cash in once.
Midtown Sky Developer
Better Home Group for real estate joined Home Better, the mother company with It-based projects established in 1992, as a subsidiary, to add a new specialization to the real estate business in 2003.
Throughout a short period, Better Home Group managed to prove its competency among the market pioneers by introducing residential, commercial, business, and medical projects to the Egyptian market with a total number of 56 projects, in which the company exceeded customers' expectations.
The company exceeded the records by developing around 65 Projects in different fields, with a total number of 2 million m2 developed around Egypt.
Better Home Company launched Midtown Sky after its successful residential projects in the New Capital City, with the main focus to have a footprint in developing the New Capital City.
Other projects by Better Home
Midtown Condo, New Capital.
Midtown Solo.
Business plaza.
Frequently asked questions about Midtown Sky
Who is the developer of Midtown Sky?
Where is Midtown Sky located?
How can I contact the Consulting Team in Midtown Sky?
Contact the following no: 01101112515